16 Nov

101 Christmas Stocking Stuffer Ideas They'll Love

Check out our list of 101 stocking stuffer ideas for everyone on your list. This year, fill Christmas stockings with things they'll love.

Are you looking for unique ideas for stocking stuffers? Think of us as your own personal Santa's Workshop, where you can create custom stocking stuffers that will delight and thrill everyone on your list. Get ready to have fun filling their stockings with a great selection of personalized items that they're sure to love.

Get creative and have fun shopping for stocking stuffers! Start by taking a moment to think about whose stockings you'll be filling on Christmas Eve and what they would like. What hobbies or special interests do they have? What types of items would they find useful or interesting? What are some fun, unexpected items you know they would really enjoy?

Stocking fillers are all about creating a moment of surprise and joy with small delights, sweets, and goodies. Our suggestion: Always include something unique and slightly unpredictable.
Top 10 stocking stuffers for 2022
The great thing about stocking stuffers is that almost anything can work as long as it's small and something the recipient will like. You don't have to go crazy or spend a ton of money on stocking fillers. Sometimes the most everyday items make the best Christmas stocking stuffers.
Cute hot cocoa mugs
Matching family socks
Custom puzzles
Photo keychains
Favorite treats or snacks
Travel mugs or tumblers with straw
Santa hats for everyone
Funny drink holders or coasters
Water bottles with names
DIY or custom ornaments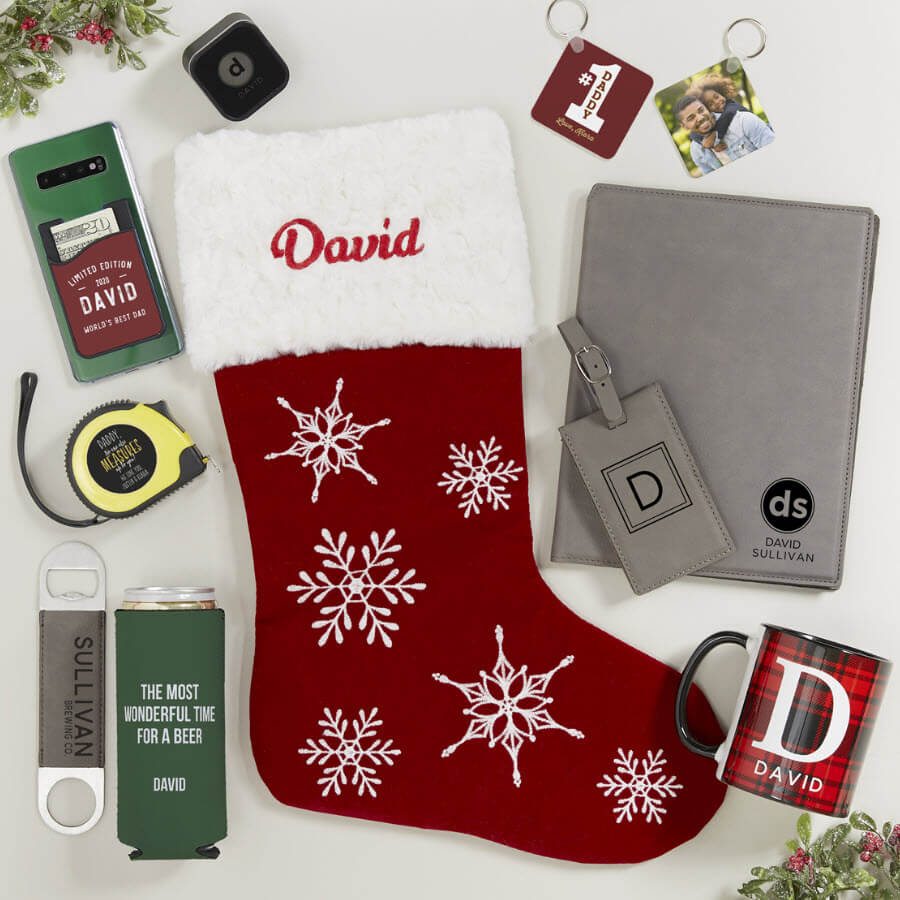 Stocking stuffer ideas for men
The guys on your list will enjoy finding some handy multi-tools and practical accessories they can use around the house. Anything that supports their use of favorite electronics is always a good option. Things like headphones, cases, organizers, chargers, etc., are practical gifts that guys will appreciate. Think about his favorite hobbies and pastimes, and then think about the smallest things that might pertain to them.
Tape measure
Adhesive cell phone card holder
Portable power bank charger
Engraved cufflinks or tie bar
Bottle opener
Better yet, a bottle opener coaster
Multi-tool pocket knife
Windproof lighter
Monogrammed money clip
Leather wallet & card holder
Personalized metal wallet card
Secret message collar stays
A set of customized golf tees
Photo golf balls
Funny golf markers
Golf club covers
Engraved shot glass
Custom fishing lures
Fishing knife
Small leather portfolio
Leather luggage tags
Cabin inspired camp mug
Grilling BBQ multi-tool
Multi-tool pocket hammer
Can & bottle wraps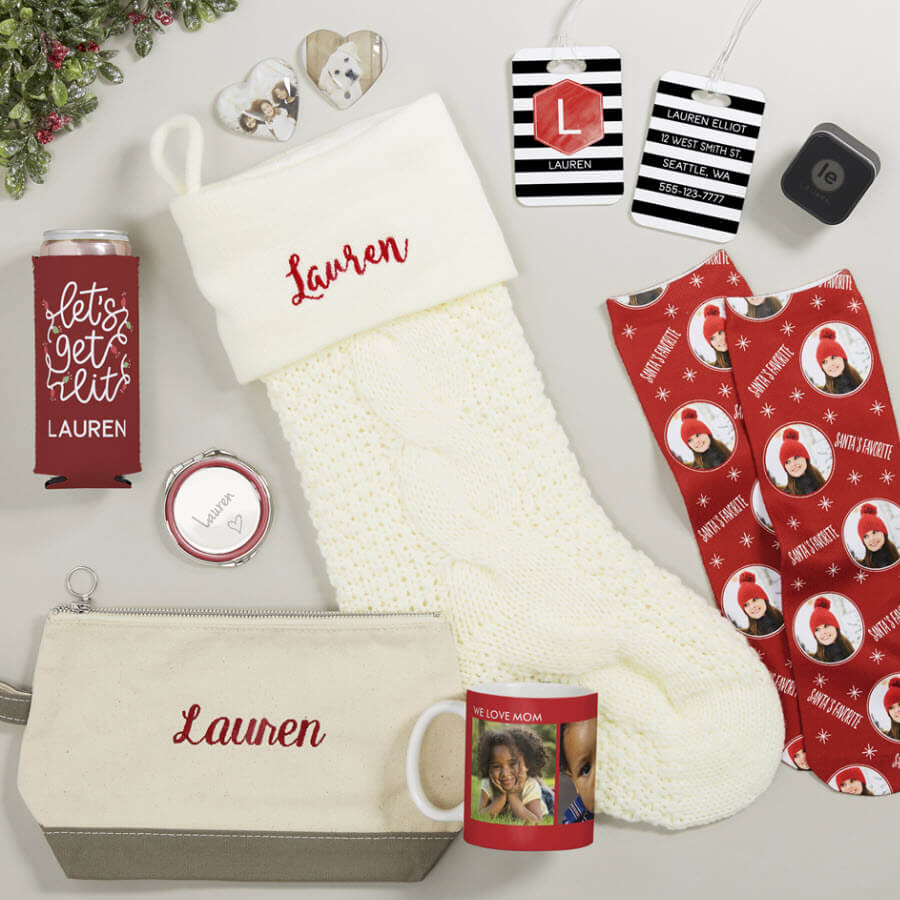 Stocking stuffer ideas for women
The ladies in your life will appreciate practical accessories, such as an engraved purse hanger, lipstick case, or compact mirror they can take with them anywhere. Of course, you can't go wrong with a piece of custom jewelry personalized just for her or something to hold it, such as a ring dish or jewelry roll. If she loves to travel, there are plenty of options for people on the go, including passport covers, luggage tags, and more practical options.
Personalized makeup bag
Engraved lipstick case
Custom photo socks
Monogrammed compact mirror
Photo heart keepsake
Reusable canvas tote
Photo mug
Ring dish
Engraved necklace, bracelet, or other jewelry
Jewelry roll
Purse hanger
Engraved USB charger
Calendar mouse pad
Home office or desk decor
Packing cube set for travel
Shoe bag or lingerie bag
Toiletry travel case
Passport cover
Luggage handle wrap
Small leather journal
Photo paper note cube
Custom photo keychain
Scented candle jar
Stainless stemless wine cup
Personalized wine bottle opener or bottle stopper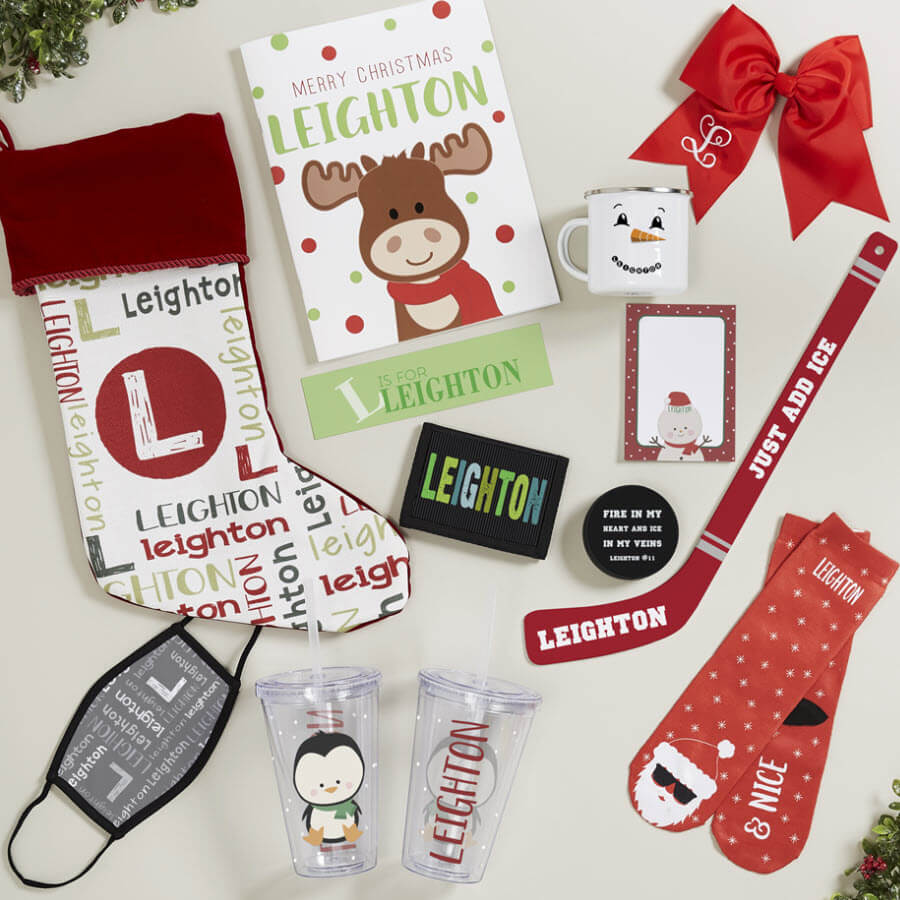 Stocking stuffer ideas for kids
Of course, stocking stuffers are most fun for the little ones, and there are plenty of great options that kids of all ages will love. Adding kids' photos, names, initials, and fun holiday characters will make these gifts more special and fun. Look for stocking stuffers that you know they'll use, such as water bottles or tumblers, fun holiday socks, or small school accessories. Then, mix in a few surprises you know they'll enjoy, such as puzzles, games, playing cards, or stocking stuffers that relate to their favorite activities and hobbies, such as sports, dance, art, music, and more.
Indoor snowballs
Coloring & activity books
Fuzzy funny socks
Personalized superhero cape
Insulated drink tumblers
Water bottles
Kids wallet or cash box
Personalized night light
Notecards
Bookmarks
Pencil case
Engraved pencils
Playing cards
Memory games
Rubik's cube
Custom magnets
Custom name stickers or stamps
Kids apron for cooking or crafts
Embroidered baseball cap
Personalized pillowcase
Personalized hockey puck or hockey stick
Custom photo guitar picks
Hair bows or hair accessories
Personalized cereal or snack bowl
Face mask case for school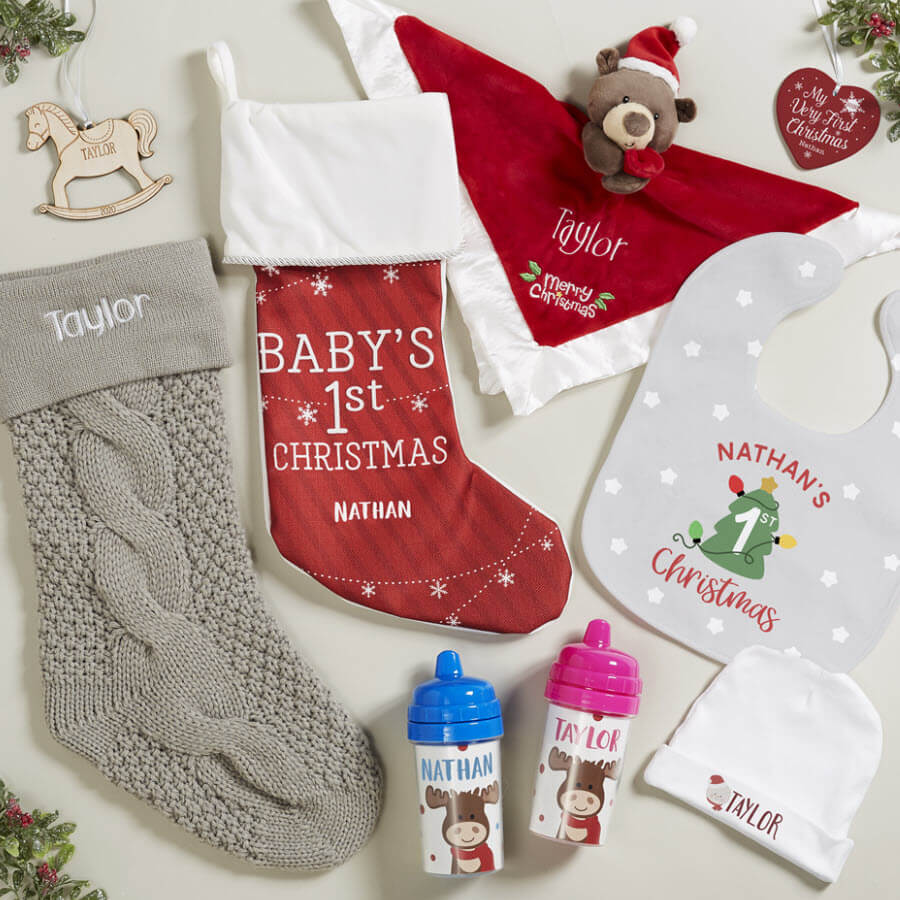 Stocking stuffer ideas for baby
Your sweet bundle of joy won't remember this year's holiday celebrations, but you and your family will. That's why personalized stocking stuffers are so great at making baby's first Christmas more memorable. A soft baby lovie or security blanket, holiday bib, or hat, and, of course, baby's first Christmas ornament make great additions to baby's first ever Christmas stocking.
Sippy cups or snack cups
Baby hat with baby's name
Holiday-themed bibs or burp cloths
Security blankie or baby lovie
Hooded baby towel
Small plush animal, doll, or baby rattle
First tooth & curl keepsake boxes
Custom engraved wooden baby block
Stocking stuffer ideas for dogs
Our furry, four-legged friends can join in on holiday celebrations with stockings full of dog treats and goodies just for them. Make your pup look festive with a Christmas dog bandana, matching collar, dog tag, and leash. Don't forget to add your dog to your Christmas tree with a personalized ornament with dog's name or photo.
Holiday-themed dog bandana
Custom dog collar
Matching dog leash
Jar of their favorite dog treats
New dog tag
Personalized pet towel
Bone shaped pillow or dog toy
Photo clip holder or small frame with dog's photo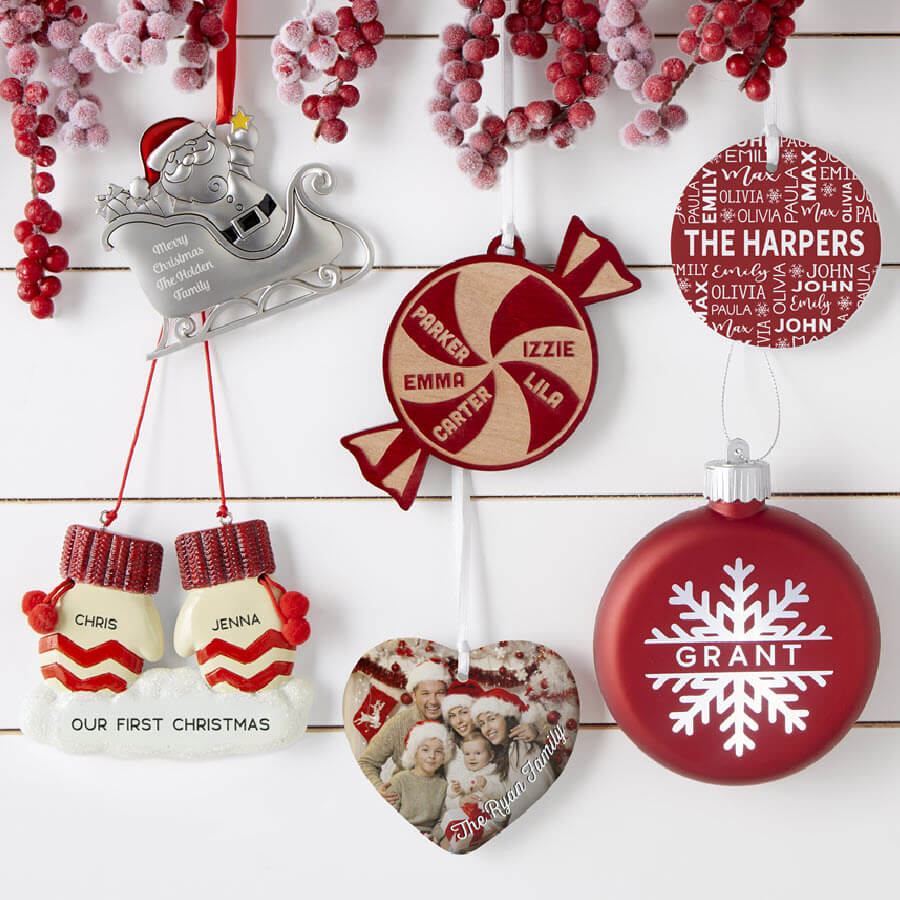 Don't forget: Ornaments make great stocking stuffers!
Remember, Christmas ornaments are always a good option for stocking stuffers because you know they'll be hung on the tree for years to come. Celebrate this year's memories, milestones, interests, or hobbies with personalized ornaments for everyone on your list.
Commemorate special milestones and firsts, such as baby's first Christmas, first home, wedding anniversary, and other important moments. Are the kids into dance or sports? If so, create an ornament that ties into their current passion, and years from now, when they've moved on to something else, they'll have the ornament to remind them of the time when their life was all about ballet or soccer or whatever their interests are today.
Once you've chosen a handful of personalized items for each recipient, you can finish off their Christmas stockings with favorite candies, snacks, treats, candy canes, and any other goodies they enjoy. Find ways to incorporate other items that go with the personalized ones you created for them, and on Christmas morning you're sure to see lots of smiles on very happy faces.
What are your favorite Christmas stocking stuffers?
What are some of your favorite stocking stuffers and fillers to give and receive? Share your Christmas stocking stuffer ideas in the comments below.
Related