15 Nov

101 Last Minute Christmas Gifts For Every Budget

Going with a boring gift card might seem like the best option when you're running out of time, but these thoughtful and unique last minute Christmas gifts might change your mind.

We get it. Last-minute Christmas shopping can be super stressful. With so much to do and so many places to be during the busy holiday season, it can be difficult to find time for everything. The days are shorter, the weather is lousy, and your holiday to-do list seems to be never-ending.

Between holiday decorating, cooking, baking, cleaning, visiting friends and family, hosting and attending parties, and work and school functions, it can all get overwhelming. On top of this, you have to remember to get a meaningful gift for everyone in your life, including family, friends, coworkers, bosses, important clients, neighbors, teachers, coaches…the list goes on and on.

If you're feeling the pressure, you're not alone.

We tend to forget the hustle and stress of the holidays too easily, remembering only the good vibes from previous years. This inevitably leaves many of us woefully unprepared for it all year after year. We become victims to the phenomenon called the planning fallacy, where we repeatedly underestimate how much time and effort will be needed to complete certain tasks, like buying gifts for everyone on your list.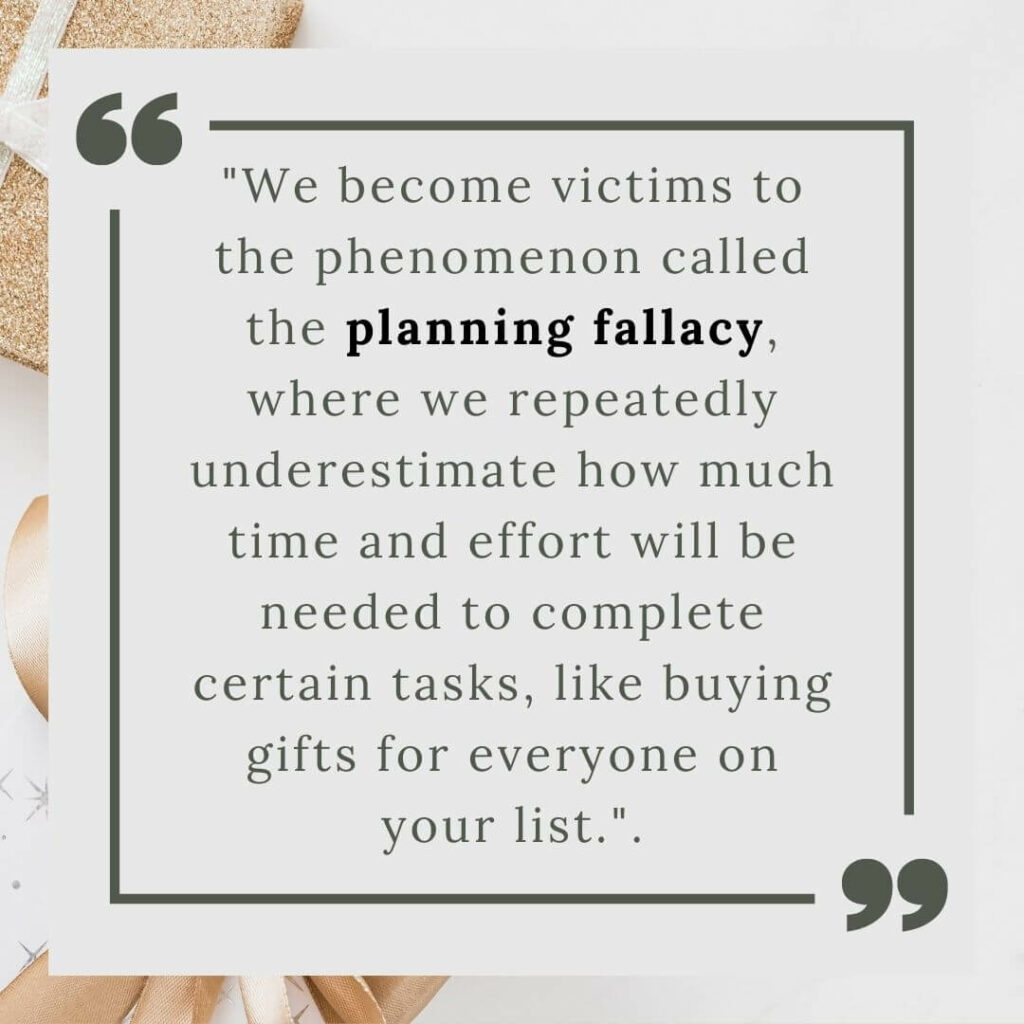 101 last-minute Christmas gift ideas
If you're finding yourself still trying to hunt down those perfect presents just days before Christmas, consider these thoughtful, unique, and creative last-minute gift ideas for everyone on your list.
These top 10 items are best sellers for a reason — they make for unique, versatile gifts anyone can appreciate. Many of them can be easily paired with gift cards, edible gifts and beverages, and other giftable items.
Best last-minute Christmas gifts for 2022
Wooden Christmas gnomes
Homemade or personalized ornaments
Wine, beer, cocktail, or whiskey glasses paired with a bottle of something
Coffee, tea, or hot cocoa mugs with coffee, tea, or hot cocoa mix
Cozy Christmas blanket or throw
Scented Christmas candle
Fun Christmas socks for the whole family
Fun photo gifts you know they'll love
Christmas photo album or picture frame
Santa sack filled with their favorite snacks, sweets & treats
Shop All Christmas Best-Sellers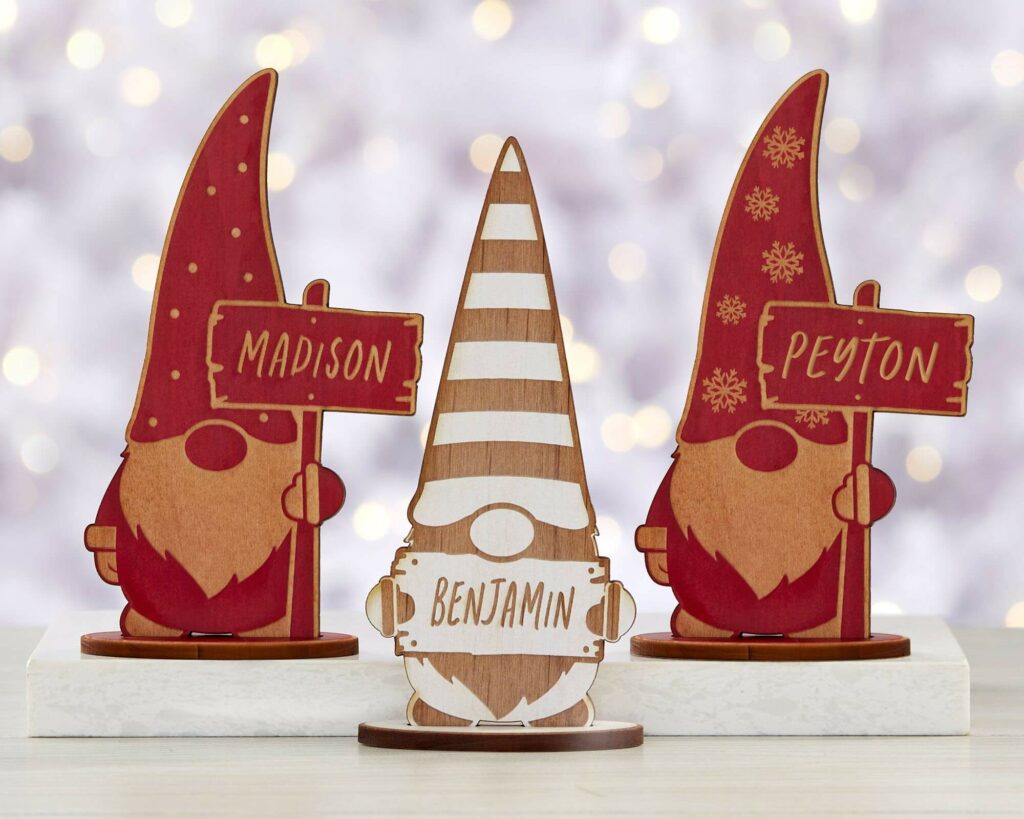 If you don't know what to get someone, start with a Christmas ornament personalized or homemade to make it special just for that person, couple, or family. The Christmas tree ornament can serve as the main gift, a unique gift tag, wine bottle tag, and more — get creative! Glassware is another great gift option, especially if you pair it with a bottle of their favorite libation. For those who don't indulge, consider a personalized mug paired with a bag of coffee, box of herbal teas, or gourmet hot cocoa mix. Or go all out and grab a Santa sack to fill with all their favorites.
Last-minute Christmas gift ideas for mom, grandma, or aunt
Moms, grandmothers, aunts, sisters, and other special ladies in your life will enjoy a mix of practical and fun gifts to enjoy this Christmas.
Fun wine glasses and a bottle of her favorite wine
Embroidered apron or a new cookbook
A new cutting board or cookbook stand
Embroidered cosmetic case
Monogrammed canvas tote or purse
Custom photo necklace
Personalized Christmas décor or ornaments
Christmas movie watching blanket and a new Christmas movie
A warm cuddle wrap or shawl
A plush luxury bathrobe
Shop All Christmas Gifts For Her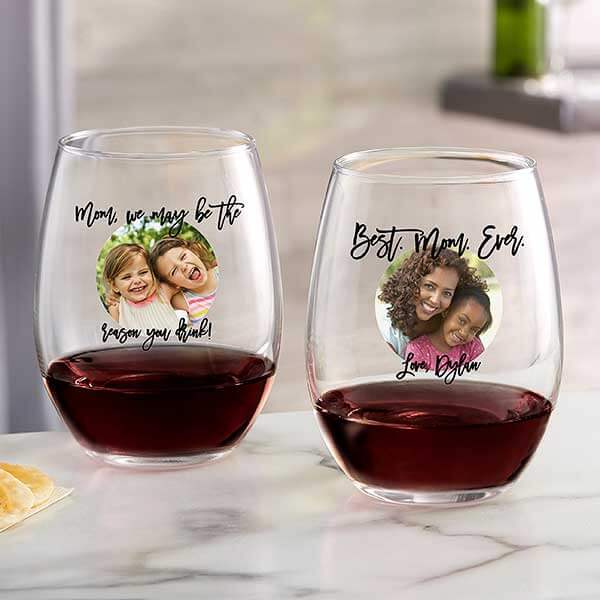 The key to making your Christmas gifts for mom, grandma, or a special aunt more thoughtful and memorable is finding something you know she can use and appreciate. Adding personalization is just the cherry on top and will ensure your gift not only stands out but won't look like a last-minute purchase.
For moms who enjoy cooking or baking and love wine, these fun photo wine glasses and a custom embroidered apron with the saying "Dinner Is Poured" will make a gift she'll never forget. Grandmas who love decorating for the holidays will adore this Santa shelf sitter with the names of all her grandkids or the throw pillows that include all her loved ones. Aunties might prefer a monogrammed weekender tote or a luxuriously soft and warm cuddle wrap to keep them warm during the cold winter months.
Last-minute Christmas gift ideas for dad, grandpa, or uncle
A pocket throw pillow to hold his remote, phone, and more
Money clip wallet
USB portable charger or power bank
Insulated stainless steel travel mug or thermos
A custom sign for his garage, man cave, or workshop
A funny backscratcher
Personalized whiskey glasses
Engraved BBQ tool set
Personalized tape measure
#1 Dad or Grandpa custom socks
Shop All Christmas Gifts For Him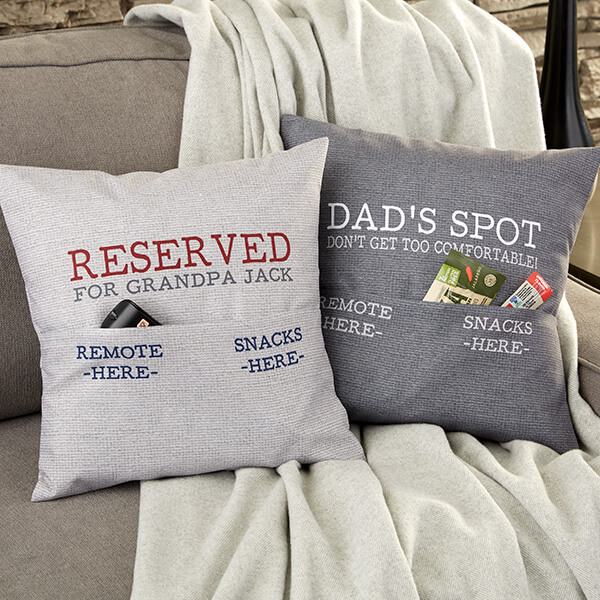 Finding a great last-minute gift for dad, grandpa, uncle, or another important man in your life doesn't have to be difficult. Think about their hobbies and interests or something they might need, such as a new wallet or duffle bag.
If your dad loves to grill out, a custom engraved grilling set paired with an assortment of spices, rubs, or BBQ sauces will surely melt his heart. Grandpas who love to fish will get a kick out of a personalized fishing lure with a punny saying and Christmas wishes. Uncles who are always on the go will appreciate top-quality Stanley insulated drinkware customized with a name, initial, or monogram. And if all else fails, these manly pocket pillows that hold snacks, books, magazines, and, most importantly, the TV remote are a sure winner!
Last-minute Christmas gift ideas for wife, fiancée, or girlfriend
Cashmere-feel plaid monogram scarf
Engraved message bracelet
Jewelry box or tray
Embroidered leather makeup bag
Personalized journal
Portable wine chiller or picnic basket
A fun set of wine glasses
Monogrammed garment bag or weekender duffel bag
Personalized yoga mat
Photo puzzle with a romantic photo
Shop All Christmas Gifts For Her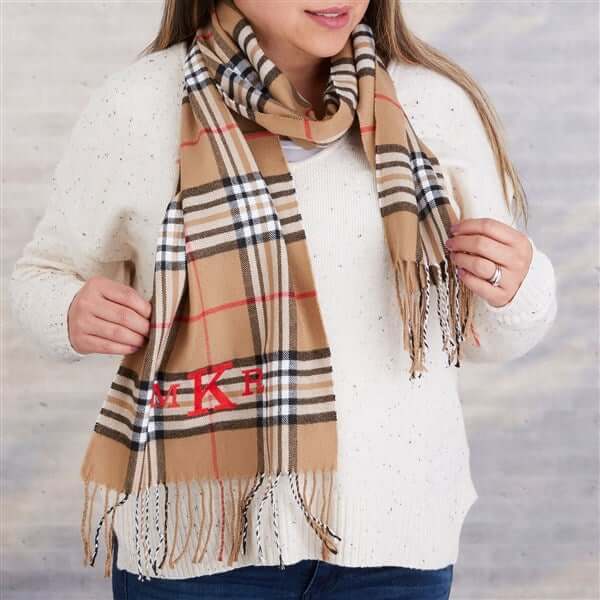 Show your love at Christmas with these creative last-minute gifts that will surprise and delight your wife, fiancée, or girlfriend. The personalized touch will make them think you spent hours creating the perfect present when in fact these gifts take just minutes to customize.
You can't go wrong with a jewelry gift for your wife, and this bracelet engraved with a romantic message or the names of your children is just perfect for Christmas. She might also enjoy a modern easel calendar customized with your family photos — one for each month of the year. You can show your fiancée or girlfriend that she's the boss with this trendy Boss Lady journal or surprise her with a weekend getaway and a monogrammed weekender bag she can take along on your next romantic adventure.
Last-minute Christmas gift ideas for husband, fiancé, or boyfriend
Custom photo socks
Engraved pizza peel gift set
Personalized beer glasses
Wooden laptop and tablet lap desk
Personalized watch box
Travel tech organizer
Authentic Ammo Can storage box
Embroidered tool tote
Portable charger power bank
Leather valet tray or toiletry bag
Shop All Christmas Gifts For Him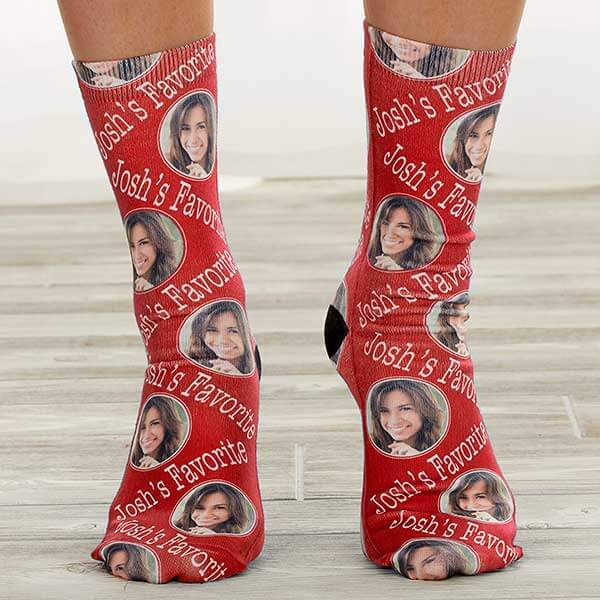 Men can be famously difficult to shop for, whether you're short on time or not. But these last-minute Christmas gift ideas for husbands, fiancés, and boyfriends are sure to please even the pickiest guys in your life.
If your man has a great sense of humor, he'll instantly fall in love with these funny photo socks that feature your smiling face. For husbands whose second love is pizza and beer, this custom engraved pizza peel gift set and personalized beer can glasses will earn gift of the year status. If your fiancé or boyfriend loves tech, he'll definitely appreciate the personalized tech organizer or engraved lapdesk to hold his tablet or laptop. And any handyman will be overjoyed to receive this top-quality Carhartt tool bag to hold all his home improvement essentials.
Last-minute Christmas gift ideas for kids, toddlers, and babies
Light-up LED night lights
Melissa & Doug doctor set, ice cream set, or another toy gift set
Kids' tool box or tool belt
Kids' art display sign with clips
Personalized superhero capes
Christmas-themed plush stuffed animal
Unicorn flip sequin throw pillow
Coloring and activity books or an art set
Wireless earbuds with charging case
Stainless steel water bottle customized with their name
Shop All Christmas Gifts For Kids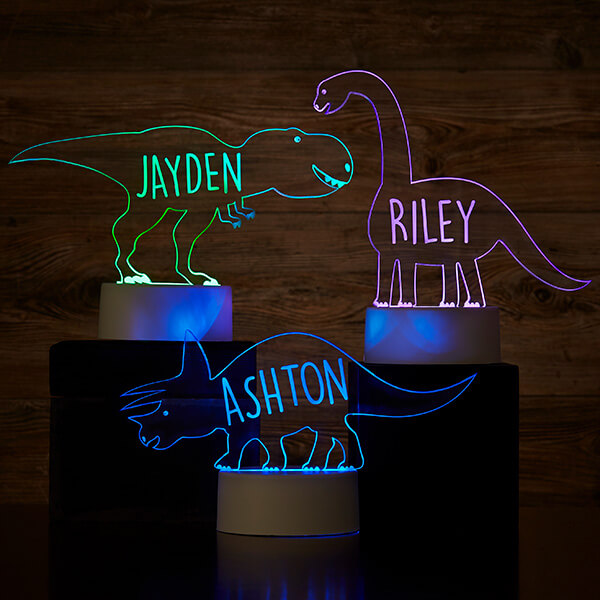 When it comes to the little ones, the most important part of Christmas is making the day magical and special. Personalizing their presents with their names will make them more memorable, creating cherished keepsakes they'll want to hang onto for years.
Melissa and Doug toys are always a winner when it comes to gifts for toddlers and kids. These well-made toys inspire imagination and creativity in children, and they're so darn cute! Adding your child's name will make the gift that much more special. If your kids love playing pretend, they'll enjoy Melissa & Doug's ice cream shop, doctor kit, or vet kit toy, or personalized superhero capes. For the budding artists, consider the kids art display sign that comes with handy clips to hang their masterpieces. For babies and toddlers, a stuffed animal, like this adorable long-legged sloth, will make a sweet gift and lovely photo prop for Christmas family portraits. Bigger kids will enjoy their very own personalized coloring books or flip sequin gifts that are so popular these days.
Last-minute Christmas gift ideas for coworkers, bosses, and employees
Calendar mousepad
Custom nameplate
Funny paperweights
Personalized portfolio or writing journal
Business card case or desktop holder
Desk calendar for the new year
Wireless charging pad
Personalized tech organizer for cords, adapters, and more
Engraved wood phone stand or pen set
Funny wine glasses
Shop All Christmas Gifts For Coworkers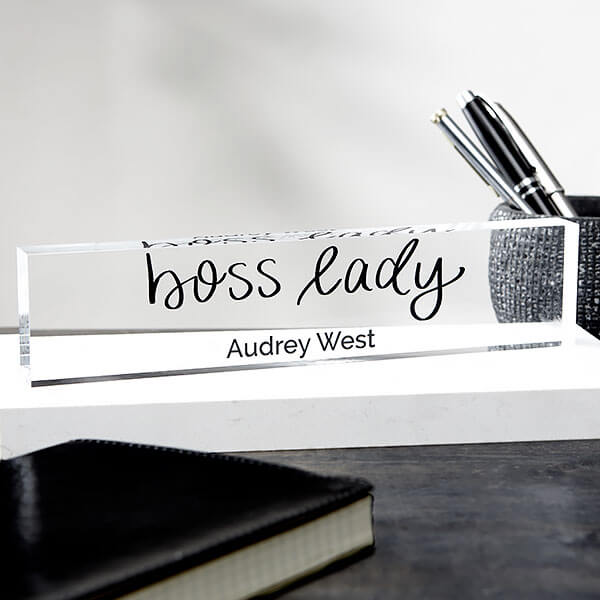 When it comes to work friends, bosses, and colleagues, customizing something they can use around the office is a great last-minute Christmas gift idea they will surely appreciate. Find something practical, such as a wireless charging pad, a monogrammed tech organizer, a new portfolio, journal, or notebook, or, of course, a calendar for the new year.
Or you can go with something you know they'll enjoy, such as funny wine glasses or coffee mugs. By adding custom details, such as their name, initials, or even a message or an inside joke you share, you make your gift more personal.
Last-minute Christmas gift ideas for teachers, coaches, and tutors
Gift cards
Teacher candy jar
Engraved coach whistle
Teacher photo clip block holder or shelf block
Custom teacher stamp
Paper note cube or notepad set
Weekly planner
Hand sanitizer or hand sanitizer holder keychain
Teacher- or coach-themed clipboard
Personalized teacher tumblers or mugs
Shop All Christmas Gifts For Teachers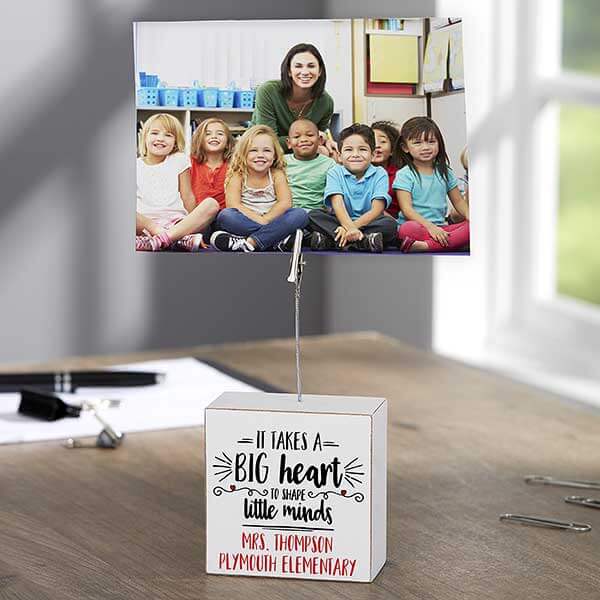 In my opinion, the best last-minute gifts for teachers, coaches, tutors, and other educators are gift cards. You can ask which stores your recipients like most, but I bet it's either their local teacher supply store or local Target. Of course, you can also go with gift cards to restaurants or coffee shops you know they enjoy, bookstores, or Amazon.
To make your gift more personal and special for your favorite teachers and coaches, consider adding a small homemade or personalized item. Some of our favorite last-minute gift choices are ones that take just minutes to customize. Simply add their name, sport or subject, school name, and other customizations.
Last-minute Christmas gift ideas for family or neighbors
Christmas cookie jar
Family popcorn bowl set
Homemade treat basket with a personalized kitchen towel
A Christmas doormat
Christmas snow globe
Personalized family shelf decor
Board games and holiday movies
Personalized family picture frame or family ornament
A fun holiday family blanket or throw pillow
Personalized holiday garden flag or house flag
Shop All Family Christmas Gifts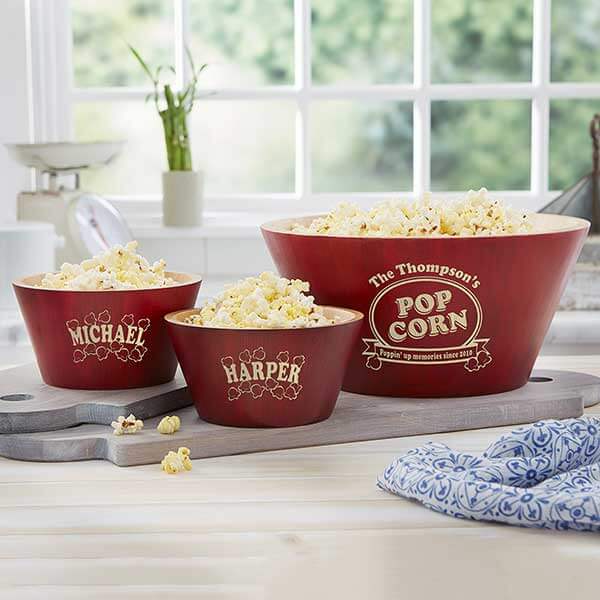 When it comes to finding the right last-minute Christmas gift for another family or your neighbors, friends, or relatives, look for something they can enjoy together as a family. Our favorites are board games and holiday movies, a family-sized cookie jar, a family popcorn bowl, and other items they all can enjoy together. Another great family gift idea is to personalize something that includes all family members' names.
Last-minute Christmas gifts for under $25
A Christmas mug filled with treats
Custom photo keychain
Cell phone wallet and card holder
Holiday-themed can and bottle wraps or wine bottle opener tool
Photo coasters, photo playing cards, and other photo gifts
Luggage tags and other travel accessories
Decorative shelf and mantle blocks
Custom Christmas socks
Phone ring holder, charger, or other phone accessory
Bottle of wine with a personalized wine bottle label
Mini Christmas treat bucket filled with homemade goodies
Shop All Last-Minute Christmas Gifts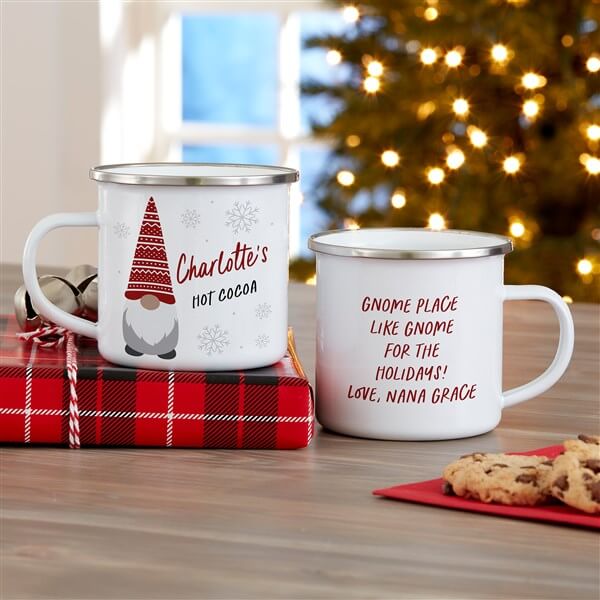 Now, there's a reason why photo gifts represent nearly half our picks for the best cheap last-minute Christmas gifts: They're quick and easy to make — all you need is a photo — and they're super affordable. These gifts also also show that you spent the time creating something truly custom and one of a kind. Find more last-minute Christmas gifts for any recipient and any budget!
Share your last-minute Christmas gift ideas
What are your favorite last-minute Christmas gift ideas you have given or received? Share your finds in the comments below.
Related