Last updated: February 7, 2023

Every day can be the perfect day to send a love message to your wife or girlfriend. Whether they're handwritten notes or sweet text messages, love messages for her can strengthen your relationship and spice up the romance in your life.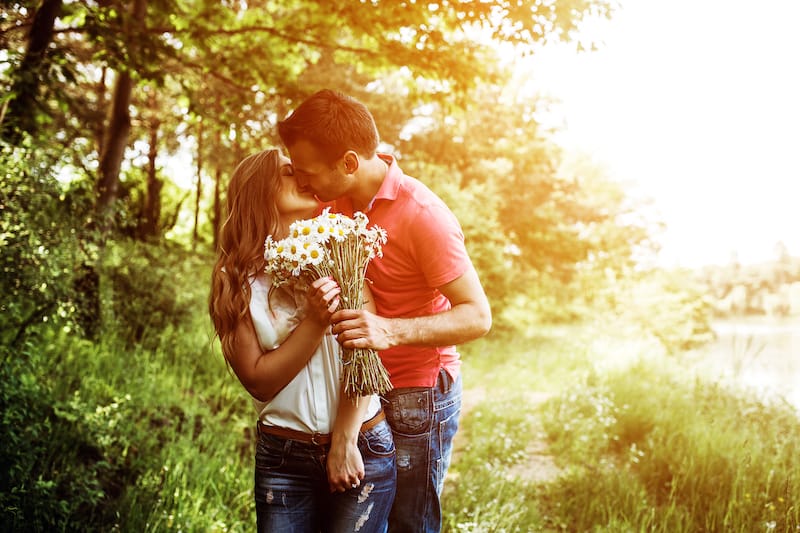 However, love isn't always easy to express. Though you might know how you feel about her, it can be much harder to put all these feelings into words. Praise, affirmation, gratitude, and genuine warmth are all good sentiments to begin writing a love letter.
Sincerity is the key to a great love note. Make sure to customize these love messages to your own style or your loved one's taste, with specific details. This will make it even more special.
These love messages range from sweet to flirty, as well as love texts and romantic quotations. Whether you're professing your love for the first or the thousandth time, we hope that these romantic messages will inspire you.
You can scroll down to read our full collection of love messages for her, or use the navigation below to jump between topics.
Use the links below to jump to a particular section, or scroll down the page to see the entire collection of love messages for her.
Girlfriend |
Wife |
Long Distance |
Good Morning & Night |
Texts |
Flirty |
Quotations |
Love Letters
Love Messages for Your Girlfriend

Let your girlfriend know how much you care by sending a cute, romantic text or "I love you" message. It'll brighten her day!
Here's to the girl with the cutest smile in the entire world.
If someone were to ask me what three top words would describe you, I'd say you're: "The absolute best."
Every day, I'm taken by surprise about how beautiful you are. If only you could see yourself how I see you. Then, you'd know you're perfect just as you are.
I wish there was a non-corny way to tell you how much I love you. But I can't think of a single one, so here goes: I love you, and I can't imagine my life without you.
If only being your boyfriend was my job. I'd be the best and most qualified candidate. Oh well, I guess I'll have to do this work for free! Your love is all the reward I need.
What can I say? You're my best friend, my love, and my soulmate. You're the best partner and confidante that I can ask for. Thank you for being you.
Every little moment adds up to make me love you more than ever. I love you even more than I did yesterday, and I bet that tomorrow it will grow even stronger.
It's true what they say, how beauty mesmerizes men. But I never understood it myself until I met you.
How do I know I'm in love? Well, every time my phone rings, my heart races, and I hope it's you. When I see your name, the endorphins flow, and you're all I can think about.
Yesterday, I thought I was convinced… Then today, when I woke up beside you, I was positive about it… And tomorrow, I know that I will be more sure of it than ever: It's you. You're the love of my life.
Love Messages for Your Wife

A good marriage depends on communication and respect. Sending messages and loving affirmations that show your appreciation and gratitude is a great way to keep the bonds strong while inspiring romance.
You're my real-life fairy tale, and I wouldn't change a thing. I love you.
Everyone has a particular motivation that gets them out of bed to face the day. For me, it's you.
Seeing your smile is always the greatest part of every day. It always has been from the day we met to now, years later.
What's the best time for us to spend together? Let's say every moment between "now" and "forever."
If being with you is my karma, then I know I must have done something very right in my life. I'm so grateful that you're here to brighten all my days and nights.
I used to scoff at the idea of soulmates, but that was before I got to know you. It's the most incredible feeling to know that I'll be spending the rest of my life with you.
You are the one thing in my life that I'm completely sure about. I love you for as long as I live. The rest we can handle together as it comes.
Being with you is easily the best decision I've ever made. Every day, I fall in love again with your passion, courage, boldness, strength, honesty, kindness, beauty… shall I go on?
My dearest wife, I would give you anything that you could possibly want in this world. But out of all the gifts I wish I could give you would be to see yourself through my eyes, so that you would finally know just how incredible you are to me.
Every moment in my life has been directing me to you. The good and the bad – every choice, heartbreak, regret, and revelation – have led me to meeting you. When I'm with you, my past is worth it, and I'm only thinking about our future together.
Long Distance Love Messages for Her

Even when you can't be with your loved one in person, sending romantic messages and letters is one way to keep your relationship going. These messages can help you to profess your love from afar and let her know that you're thinking of her.
You're always my dearest 'hello' and my hardest 'goodbye'.
Darling, if you're ever feeling lonely or sad, always remember how deeply I love you. When I can finally put my arms around you, I'm never going to let go.
Even though we may be apart right now, I am always with you. When you're feeling alone, just look at the spaces between your fingers. That's where my fingers fit perfectly.
Hi sweetheart, I'm just sitting here smiling because I'm thinking about how I'll get to see you in a few [hours / days / months].
It's hard to believe I've lived another day without seeing you. I cherish every minute that we've spent together, and look forward to a future when you're always in my life.
I know that everybody has their own path in life. The thing is, I'd rather share mine with you. I don't want to spend another day without you in my life.
All I want is to be with you. It's true that being apart is difficult, but as we grow separately, we're always also growing together. I love you.
"We would be together and have our books and at night be warm in bed together with the windows open and the stars bright."
~ Ernest Hemingway
This sounds so romantic. I can't wait to be able to do this with you.
"Since I can't be with you right now, I will have to be content just dreaming about when we will be together again."
~ Susan Polis Schutz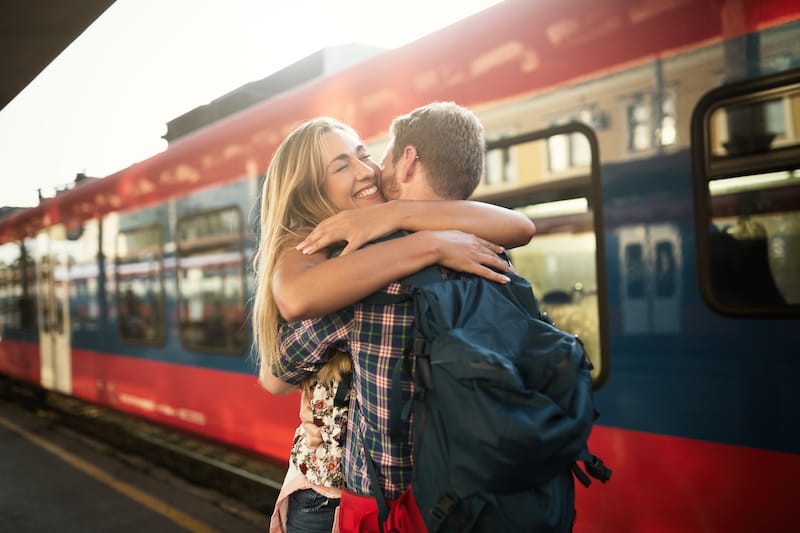 Good Morning & Good Night Messages for Her

There's nothing sweeter than receiving a love message first thing in the morning unless it's having it be the last thing that you see at night. Send a good morning message to wish her an amazing day, and a good night message to wish her sweet dreams.
Good morning to the queen of my heart! I'll be thinking of you all day until I finally get to see you.
Every morning when I wake up and see the beautiful day, I feel your love and comfort all around me. Good morning, my love.
Good morning! Here's to starting another day being entirely distracted by thoughts of you. Save some good morning kisses for me.
When I wake up smiling for no reason, I know that it's all your fault. Good morning, beautiful.
It's impossible to sleep when you're all I can think about.
Every day is worth it when it ends by your side. Goodnight, my love.
I hope you're tucked in and warm. Wishing you the sweetest dreams. Rest well, and I'll see you in the morning.
You're so beautiful that it's keeping me up at night. Don't worry though, it's a good thing. Good night, love, I'll be dreaming of you.
"It was one of those fine little love stories that can make you smile in your sleep at night."
~ Hunter S. Thompson
This is every night with us! Sweet dreams, darling.
Love SMS and Text Messages for Her

A sweet text during the day is a great way to let her know that you're thinking about her. This is also a great way to get the ball rolling for making plans and spending time together.
Just seeing your message has me smiling like a fool.
Don't worry, love. I couldn't ignore you even if I wanted to.
Wish you were here right now.
I can't help loving you more each day.
All I need is to see you today. The rest will fall into place.
Seeing a notification from you makes me forget how to breathe.
You bring some bright-and-shining color to my black-and-white world.
In a world where no one is perfect, you come pretty close to it.
Just have to let you know – You're the best thing that's ever happened to me. Love you, have a good day!
Flirty Love Messages for Her

Add some spice to your romantic messages that will make her feel special all day long. A flirty message will keep you on her mind so that she's always looking forward to seeing you.
Counting down every moment until you're back in my arms.
It's impossible to focus today when you're all I can think about.
Hey babe, mind if I borrow a kiss? Promise to give it right back.
Hi darling, I can't help wondering what you're doing. Wish I could hear your voice right now. Give me a call when you get a chance.
Do you have weekend plans yet? If not, how about a good 48 hours of cuddling, kissing, and there are a few other activities I can think of…
Hi beautiful, I can't help fantasizing about all the stuff we can do together when I see you again.
Just going to run this by you. Let's go out for a romantic dinner? And then, maybe we can get a little creative with dessert…
Thinking of you. You're the only woman I've ever felt this way about. Tell me you'll come over tonight? I want to show you in person how grateful I am.
Love Quotations for Her

Much has been written about love over time, and luckily that means there's a lot of wisdom for us to draw on when writing our own love messages. Here are some of our favorite classic love sayings to use as part of your own love messages for her.
"I love you, not only for what you are but for what I am when I am with you."
~ Roy Croft
"Loved you yesterday, love you still, always have, always will."
~ Elaine Davis
"When I look into your eyes, I know I have found the mirror of my soul."
~ Joey W. Hill
"I remember who I am when I'm with you."
~ Nicole Christie
"You are more powerful than you know; you are beautiful just as you are."
~ Melissa Etheridge
"I love you without knowing how, or when, or from where. I love you simply, without problems or pride."
~ Pablo Neruda
"You should be kissed and often, and by someone who knows how."
~ Margaret Mitchell
"All, everything that I understand, I only understand because I love."
~ Leo Tolstoy
"You're the greatest risk I've ever taken. And the greatest reward."
~ Sylvia Day
"You know you're in love when you can't fall asleep because reality is finally better than your dreams."
~ Dr. Seuss
"We were together. I forget the rest."
~ Walt Whitman
"Stolen kisses are always sweetest."
~ Leigh Hunt
Love Letter Starters for Her

You can write love letters for many occasions. Maybe you're celebrating a momentous day, comforting a distant lover while you are apart, or simply letting her know that she's on your mind. You can use these love letter starters to write longer love messages for her. Don't be afraid to be sincere and specific while elaborating on what you love about her.
When you're around, you're the only person I want to look at. I'm enchanted by your presence.[Continue the letter with aspects of her beauty that hold you mesmerized.]
I like to think about the first time we met. I knew already that I had met someone incredible, who would touch my life deeply.[Add recollections of your first meeting or date.]
Ever since we met, no day has been complete without being able to see you, hear you, talk to you. Your laugh is enough to brighten even my darkest days.
There's no one in the world that could replace you. Your beauty, the strength of our connection, how you always seem to understand me, and know how to comfort me. You've touched my life more profoundly than I knew was possible.[Describe some of the ways that she has influenced your life.]
My love, I can't stop thinking about you. You've been on my mind ever since this morning. I can't wait to see you again. I want to look deep in your eyes, feel the curve of your cheek, and kiss the pout from your lips.
When I'm with you, I know I can be myself. You always love me for who I am. Thank you for being there to support me through my highest achievements and my deepest lows. I promise that I'm always here when you need me in return.[Describe those times when your love and partnership have been a comfort to each other or have pushed each other to greater achievements.]
I can't get your smile out of my mind. It's warm and radiant, like your touch. There's nothing else that I want to do at night than to hold you in my arms. I love you…entirely, madly, deeply.
Out of the millions of words that could describe our love, I find myself drawn to one in particular: eternal. I feel my love for you in every moment-from waking to sleeping, and even in my dreams. Your presence makes every day a blessing. And I'm lucky and honored by the gift of your love.
Free Printable Anniversary Cards

Check out our sweet collection of printable anniversary cards to give to your husband, wife, or partner, and let them know how special they truly are! There are also some lovely card designs to celebrate your parents' or a friend's anniversary too.
Love Quotes for Her

Looking for more love messages for her? There are some beautiful, romantic, funny, and heart-warming wishes and poems to be found on these other pages too:
Love Quotes for Her
Funny Love Quotes
Cute Boyfriend Quotes
Happy Anniversary Messages
Anniversary Quotes
Anniversary Poems
Valentine Card Sayings
Love Quotes for Him
Love Messages for Him