18 Apr

Celebrate Their First Communion With Style

Looking for First Communion party ideas? Here's how you can make the occasion elegant, fun, and unforgettable for everyone.

As religious milestones go, the First Holy Communion has great importance as the earliest religious ceremony your child will remember. Naturally, the whole family will be part of the celebration, but how do you make it memorable, appropriate, and fun for everyone?

Here are five First Communion party ideas to make this special day perfect in every way.
1. Consider the timing
In most Catholic communities, First Communions are held between March and May, and weekends can fill up quickly with spring break plans, other Communion parties, and even graduations. Send invitations as early as possible to avoid scheduling conflicts. Remember that invitations should be elegant and tasteful, but you can make them unique by including your child's photo and other custom details. > Shop First Communion Invitations & Thank You Cards
2. Decorate appropriately
Keep in mind the solemnity of the occasion. Decorate with candles or flowers instead of lots of balloons or streamers. Fewer colors are a good idea, too; whites, off-whites, and soft pastels work best for First Communion parties.
3. Take the party outside
Take advantage of the spring season to plan a cookout. A barbecue is a great and appropriate idea for the occasion. Get some of your child's favorite foods, and, if the party is right after church services, have lots of appetizers on hand so there's no delay in feeding your guests while the grilling gets going.
4. Make it special with special treats
For special treats, think of cookies with frosting in the shape of a cross, with your child's name written with icing. Candy bars with personalized wrappers are also a great choice and make a nice party favor. If you want to go big, you can also get a traditional cake for the occasion or a cupcake cake for smaller gatherings. > Shop First Communion Party Favors
5. Honor your child with a keepsake gift
There are many special First Communion gifts that your child will cherish for many years to come. Adding personalization, such as your child's name, monogram, the date of their First Communion, or a special blessing, makes the gift more thoughtful and memorable. Some of our favorites include a personalized children's bible, an engraved glass frame with their First Communion photo, or a special keepsake box for storing their rosary, religious jewelry, and more.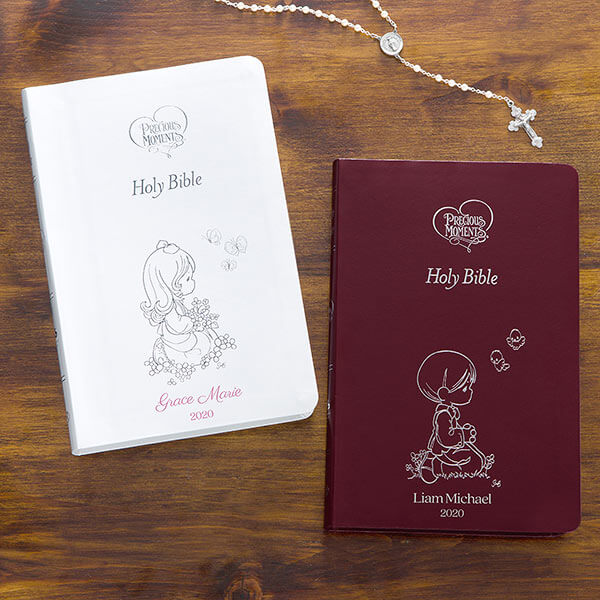 Related