Looking for free printable Father's Day coupons that Dad can redeem for all the things he loves? This is a fun and special gift you can make for dad that he's sure to appreciate.
The coupons are super easy to make. Simply print and assemble at home to make a heartwarming homemade Father's Day gift that's practical too! The coupons are high-resolution PDFs to they'll look gorgeous when you print them.
Last Updated: 4th June 2020
Free Printable Coupons for your Dad
These printable vouchers are redeemable for a range of chores and fun treats for your dad. They're an adorable gift for someone who works hard all week and deserves a rest and some relaxation on this special day.
Whether you're a kid looking for an extra-special homemade gift for your dad, a teen hoping to help your dad a bit more around the house, or a teacher looking for free classroom resources for Father's Day, we hope you find these vouchers work for you.
The coupons are packed with a mix of practical and humorous ideas. If you want to add your own voucher ideas, scroll further to print & download some blank coupons to add into your booklet.
The vouchers included in the PDF download are:
1 Free Car Wash
Breakfast in Bed
Movie Night of your Choice
1 hour Peace & Quiet
Mow the Lawn
Weekend Afternoon Nap
Dusting the House
Week off Trash Duty
Cold Beverage delivered to you
Help with Yardwork
Chore of your choice
Step 1: Download Coupons
Download our high-quality PDF coupons to make your dad a little book full of treats for Father's Day.
Optional: Add Personalized Coupons
If you'd like to include some personalized coupons for your dad you can download a page of blank coupons and fill in some special jobs you know your dad would love a hand with, or a special activity you would love to do with him, or just add some funny jobs for a laugh!
But if you're not sure what to write, here are some more ideas that you could use to personalize the free printable Father's Day coupons further.
Bike ride together
Play in the park
Spend the day together
Backyard game
Pizza with your choice of toppings
Sweep the drive
Pull the weeds
Empty the dishwasher
Feed the dog/cat
Walk the dog
Feed the fish for 1 week
Stop fighting with my sibling for a day
No whining for a day
Step 2: Print Coupons
I recommend printing the coupons onto matte photo paper or card stock for a high-quality print finish, and to help make your coupon booklet sturdy.
Step 3: Assemble Coupon Booklet
It's quick and easy to assemble your free printable Father's Day coupons into a booklet to give to your dad.
First, cut out the individual coupons using scissors along the edge of each ticket. You could use a craft paper trimmer, or a craft knife and ruler, to achieve a really straight cut and neat finish.
Second, arrange the coupons in the order you'd like them to be, and place the booklet cover on the top of the stack.
Third, staple your coupons together in the blue section to create your booklet. And that's it! Super easy and looks amazing!
Note: Another assembly option is to use a hole punch to create a set of holes in the blue section of each coupon, and then you can use a small length of ribbon to secure the book of coupons together.
*Personalized* Printable Father's Day Coupons
Put a big smile on your dad's face with these vintage-inspired father's day coupons. You can edit and print the Dad coupons online using our special coupon generator. Assemble into a cute matchbook-style booklet that Dad can carry around with him in his wallet. It's a gorgeous and memorable gift and your Dad will be touched by the effort you've gone to making a gift just for him!
Click here to personalize and print your Father's Day Coupons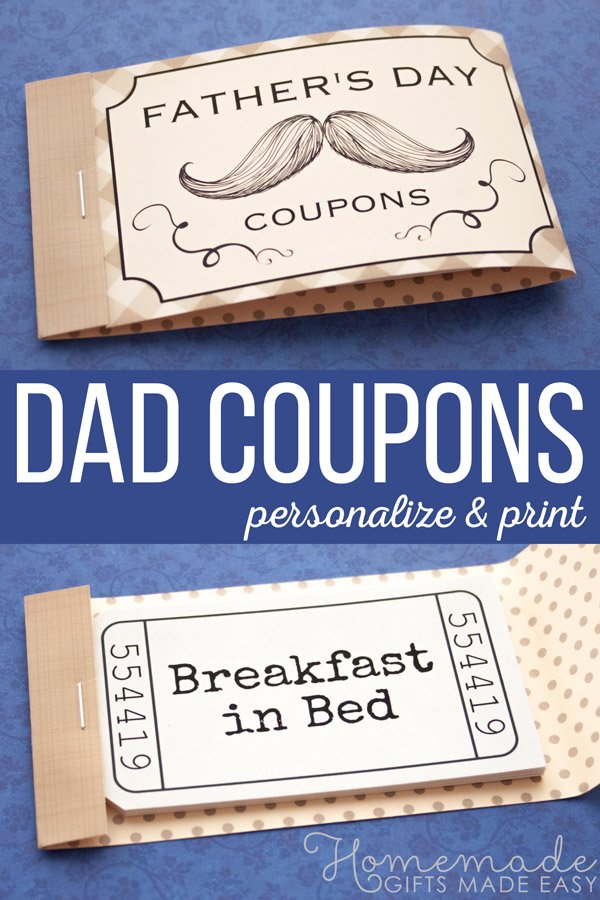 *New* Printable Father's Day Cards
Check out our awesome collection of Free Printable Father's Day cards. They're all in high quality PDF format that you can print and fold at home to give to your dad. Really handy when you can't get to the store, and your Dad gets a special card made just for him!
Click here for Printable Father's Day Cards.
More Happy Father's Day Ideas
We hope you loved our free printable Father's Day coupons, and that your dad does too!
If you're looking for other ways to show your dad how much you love him, check out our other resources:
Happy Fathers Day Images Quotes Happy Father's Day Messages Happy Father's Day Quotes Happy Father's Day Poems Homemade Gifts for Dad "Dad Definition" Poster "Dad Likes" Poster