Last updated: February 6, 2023

Whether you're in a new relationship or a long-term commitment with your partner, sending love messages to him is an important part of igniting the fire and keeping it going. Love notes can brighten his day by reminding him of the good times you share each day.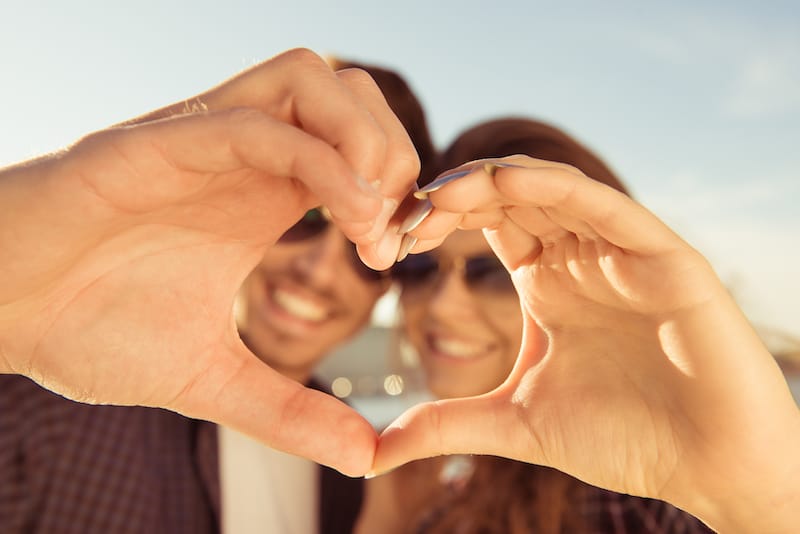 If you're having trouble expressing your love, don't worry. A lot of people become tongue-tied when writing how they feel. Just be sure to always be sincere. Affirmation, gratitude, and passion are all great subjects for writing a romantic and witty love message that will let him know just how special he is to you.
On this page, we've collected flirty and sweet messages to wish your boyfriend or husband good morning or goodnight. Romantic love messages will remind him of how madly in love the two of you are. Long-distance notes will let him know that you're thinking about him all the time, and beautiful quotes will make his day.
You can scroll down to read our full collection of love messages for him, or use the navigation below to jump between topics.
Boyfriend |
Husband |
Flirty |
Texts |
Long Distance |
Good Morning & Night |
Quotations
Love Messages for Your Boyfriend

If you love him, let him know. Each of these love messages for him makes for a cute addition to a note or a quick love text to brighten his day.
Seeing you makes my heartbeat race and brings a smile to my face. I love you more than I thought I ever could. Yours to infinity.
I'm so addicted to you, I can't stop wanting to see you every day. You're incredible, and I just can't get enough.
I sincerely believe that you're the best thing that's happened to me, and with every passing day, my love for you grows stronger.
When we met, I knew you were a dream come true. You're so smart and witty and handsome. The whole world feels bigger and more beautiful with you.
I can't get over how awesome every day that we've spent together has been. I can't wait for the next time I get to see you.
You're a little strange… and that's what makes us perfect for each other. I wouldn't have you any other way, my love.
Every time you look at me, my knees go weak and my breath comes short. You're so attractive, I could look into your eyes forever.
Sweetheart, I should tell you this more, because I think about it every time I see you: You mean the whole world to me.
It's such an amazing feeling to know that the world will always fill me with this much joy and passion whenever you're around.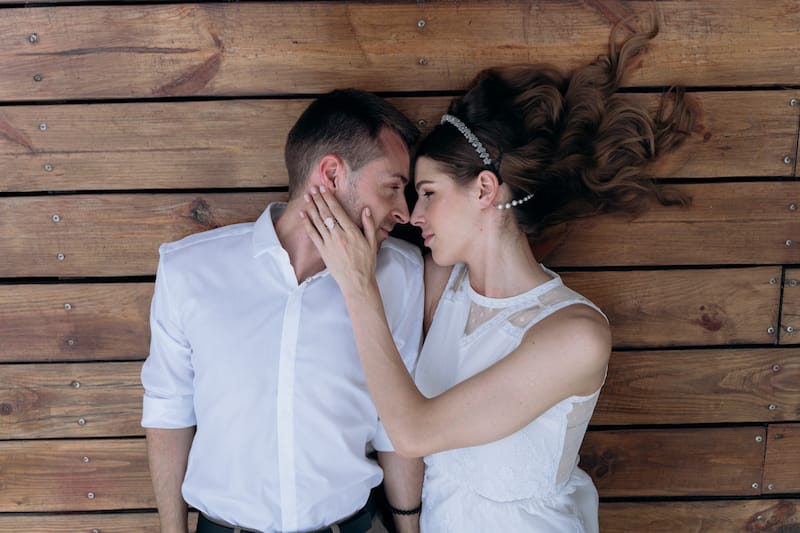 Love Messages for Your Husband

When you're married, you have more opportunities than ever to express your love. However, routine can often get in the way. Sometimes, a sweet love note is all it takes to make your husband's day and remind him of just how in love you are.
Ever since we fell in love, I laugh harder, smile all the time, and don't stay sad long. Because of you, my life is sweeter.
Sure our life has been a rollercoaster ride, but I wouldn't have it any other way. I love you through all the highs and lows.
Every day, I'm so grateful to be sharing the journey of my life with you.
It's hard to tell which is better: sleeping in your arms every night, or getting to wake up beside you every morning. Hurry home, love, so we can do it all again.
To my incredible husband. I love you, I choose you, and I always will. Each moment, without doubt, I'll keep choosing you.
Thank you for helping me experience the joy of marrying my best friend.
Out of the billions of people on this earth, you're the only person for whom my heart beats faster. My breath catches every time I see you. I can't imagine spending my life with anyone else.
Thank you for everything you give me every day. Just when I thought my love for you couldn't get any stronger, you prove me wrong.
My favorite part of the day is when I get to steal glances at you and you aren't looking. You're just as handsome and interesting as the day I met you.
Flirty Love Messages for Him

These cute and flirty messages will make your partner feel special as soon as he receives them, and you can be sure that you'll be on his mind all day long.
I love it when I catch you looking at me.
I can never get enough of you.
Whenever I see you, my heart races.
All I've been thinking about today is how you'll kiss me when you see me tonight.
If you just happen to pass by my doorstep this evening, I just might have a kiss waiting for you.
Hello to the sexiest, sweetest man I know. When can I see you again?
You're the only one I'd be late to work in the morning for. Hope it's a good day for you. Love you.
Thanks for always making me feel so beautiful. Love you!
Tonight. You + Me + Take-out?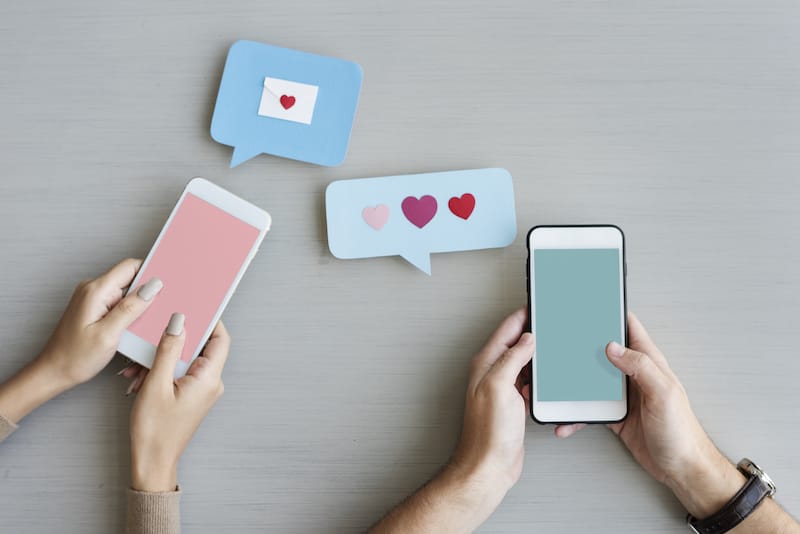 Love Text Messages for Him

Your love SMS or love text messages can be simple and sweet. This is an opportunity to send him a quick and casual reminder or pick-me-up that will bring a smile to his face.
My heart melts when I see you.
It's impossible to focus today. Everything reminds me of you.
I'm at my happiest when I'm curled up in your arms.
Just seeing your name makes me smile.
Your daily reminder: I am oh so madly in love with you!
Wish you were here with your arms around me right now.
Whenever I see you my heart skips a beat, and I fall in love all over again.
Thanks for everything you do. You make my life so much better every day.
Love you, darling. Always and forever.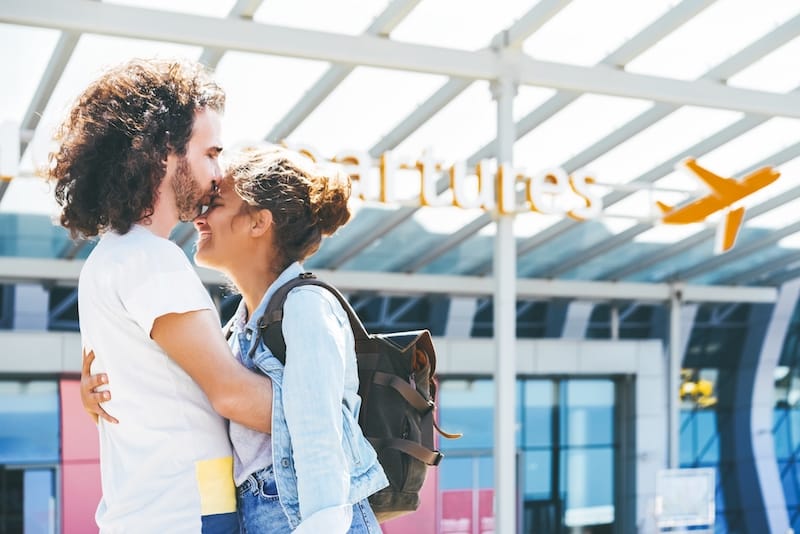 Long Distance Love Messages for Him

There's nothing easy about long distance. Being away from your loved one often makes you think of them more. Communication and sweet messages will keep the spark going, even while you can't see each other in person.
Next time I see you, I'm going to hug you and never let go.
Even apart, I can't help loving you with every bit of my being. I'm counting down the hours until we're together again.
It's so lonely in my bed when you're so far away. Clearly, one of us is in the wrong place. Miss you.
It's hard to be away from you for so long. But that's because you're the only one for me. I'd move mountains to see you again.
Whenever I feel lonely, I think about you. I miss your touch, your hugs, your voice, your warmth, and truly everything about you.
Every second that you're away feels like a lifetime. Hurry home to me, babe, and we'll make up for lost time.
I think of you as soon as I open my eyes in the morning. I can't wait until I get to see you again. Until then, I'm sending you all my hugs and kisses.
There are so many things I love about you. I don't even know where to start. I'm so glad to have you in my life, and I'll be even gladder when we're together again.
"No matter where I went, I always knew my way back to you. You are my compass star."
~ Diana Peterfreund
Good Morning & Good Night Messages for Him

There are few things more romantic than talking to your lover late into the night. And there's nothing sweeter than getting a message first thing in the morning. Let him know you're thinking of him with these messages.
Sweet dreams, love. Come visit me in mine, and I'll save a kiss for you.
I love falling asleep to your voice. It's my favorite sound. Sleep well, darling.
Tonight, I'll be thinking of you as I fall asleep. Maybe, I'll be seeing you in my dreams.
I'm going to fall asleep imagining what it will be like to rest in your arms. It's the warmest feeling I can dream of.
I couldn't go to bed tonight until I told you how much I love you. Sweet dreams, sweetheart.
You're always the last thing on my mind as I fall asleep at night and the first thing I think about in the morning. I love you.
Morning sweetheart, I hope you find all the reasons in the world to smile today.
Good morning, love. It was hard to leave the bed this morning. All I wanted to do was stay cuddled up with you
Good morning, darling. I know it's going to be a good one with a bright future, as long as we're in it together.
Seeing you first thing in the morning is my favorite way to start the day. Love you.
Love Quotes for Him

Whether you're newly professing your love, or writing a message to your longtime love, a little classic wisdom never hurts. These inspiring love quotes can be a great way to get your love letter started and help you to find your own voice.
"To love and be loved is to feel the sun from both sides."
~ David Viscott
"Eventually soulmates meet, for they have the same hiding place."
~ Robert Brault
"To be your friend was all I ever wanted; to be your lover was all I ever dreamed."
~ Valerie Lombardo
"For the two of us, home isn't a place. It is a person, and we are finally home."
~ Stephanie Perkins
"Soul meets soul on lovers' lips."
~ Percy Bysshe Shelley
"You have me. Until the last star in the galaxy dies, you have me."
~ Amie Kaufman
"But you've slipped under my skin, invaded my blood and seized my heart."
~ Maria V. Snyder
"The best thing to hold onto in life is each other."
~ Audrey Hepburn
"If I know what love is, it is because of you."
~ Hermann Hesse
"In all the world, there is no heart for me like yours."
~ Maya Angelou
"I have died every day waiting for you; darling, don't be afraid, I have loved you for a thousand years. I'll love you for a thousand more."
~ Christina Perri​​​​​​
"You pierce my soul. I am half agony, half hope…I have loved none but you."
~ Jane Austen
Free Printable Anniversary Cards

Check out our sweet collection of printable anniversary cards to give to your husband, boyfriend or partner, and let them know how special they truly are! There are also some lovely card designs to celebrate your parents' or a friend's anniversary too.
More Love Messages for Him

Looking for more love messages for him? There are some beautiful, romantic, funny, and heart-warming wishes and poems to be found on these other pages:
Love Quotes for Him
Short Love Quotes
Funny Love Quotes
Cute Boyfriend Quotes
Happy Anniversary Messages
Anniversary Quotes
Anniversary Poems
Valentine Card Sayings