Last updated: February 28, 2023

Are you looking for a free printable shamrock template for St Patrick's Day crafting? On this page you'll find a fantastic range of shamrock shapes for all your St Patrick's activities and celebrations. These plain 3-leaf and 4-leaf shamrock outlines come in a range of sizes, so there's bound to be a shamrock printable that will suit your needs.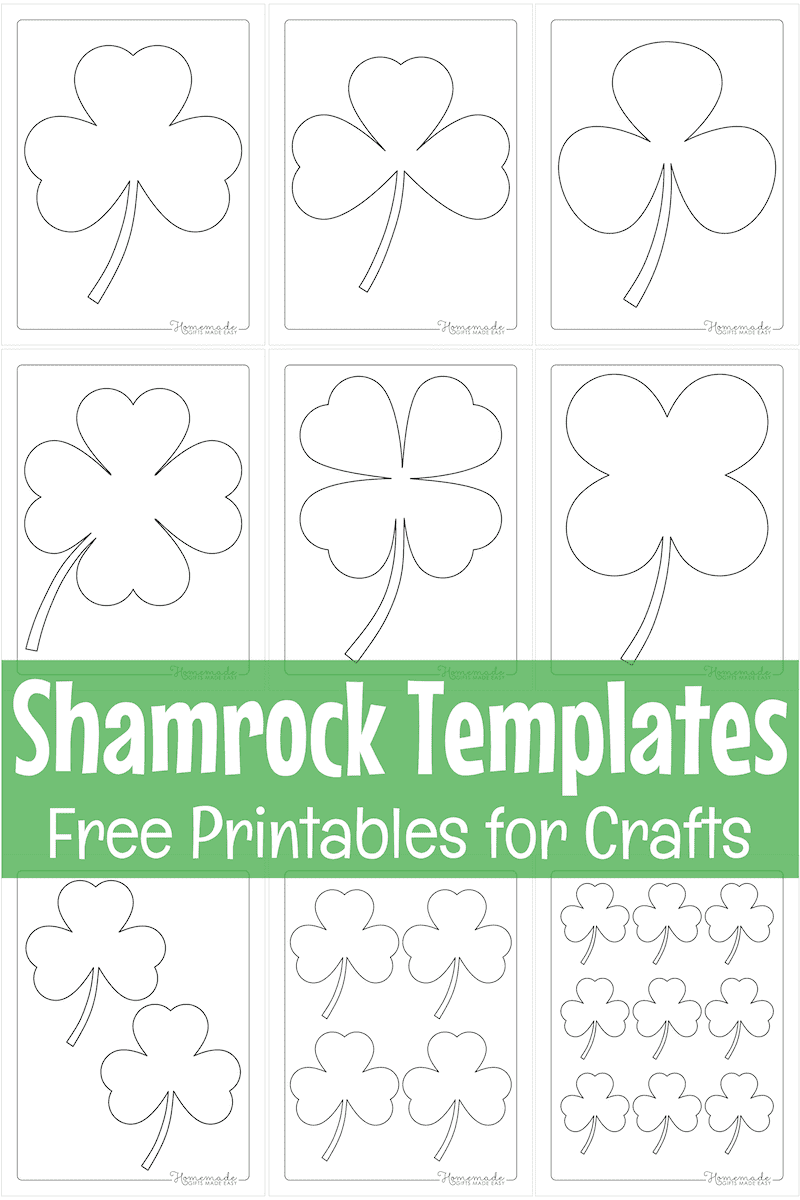 Shamrocks have long been associated with Ireland and St Patrick's Day. According to Irish legends, shamrocks were used by Saint Patrick to symbolise the Christian Holy Trinity. After arriving in Ireland in the year 431, Saint Patrick used shamrocks to teach pagans about the Holy Trinity (the Father, the Son, and the Holy Spirit). Our free shamrock printables will help you honor and celebrate Irish history and Saint Patrick's legacy.
We all know that shamrocks have three leaves. But wouldn't it be lucky to discover a four leaf shamrock!? Irish culture is all about luck – and how better to celebrate this than with the luckiest clover of all!? To increase your luck, we've included a great range of four-leaf "shamrock" templates in all sizes (large, medium, small and extra small).
Scroll down the page to see all our blank shamrock outlines. You'll find shamrock templates of all sizes, as well as shamrocks with 3 or 4 leaves. Our shamrock sheets are perfect for St Patrick's Day decorations. What works well is coloring or painting the leaves before cutting. This will give your finished shamrocks a neat appearance.
Three Leaf Shamrock Templates

Below you will be able to find a range of three leaf shamrock templates. Each shamrock outline comes in four different sizes (large, medium, small and extra small). If you're not sure which to print, print them all and see which printable shamrock template suits your crafting activity. These printables are for personal, non-commercial use only.
Four Leaf "Shamrock" Templates

Could you do with a bit of extra luck this Saint Patrick's Day? Why not print and use some of our four leaf clover printables!? We have three slightly different shaped four leaf clovers available below, in four sizes (large, medium, small and extra small). Technically these are not shamrocks, due to having four leaves. However, the four leaf clover is also a popular symbol that is associated with St Patrick's Day. They're perfect for celebrating and bringing luck into your home. These printables are for personal, non-commercial use only.
Shamrock Coloring Pages

Looking for more shamrock-themed activities? Check our our Shamrock Coloring Pages. We've got simple shamrock coloring in sheets for young children, as well as more detailed printables for older children and adults. So, get out all your green pencils, markers and crayons and get coloring!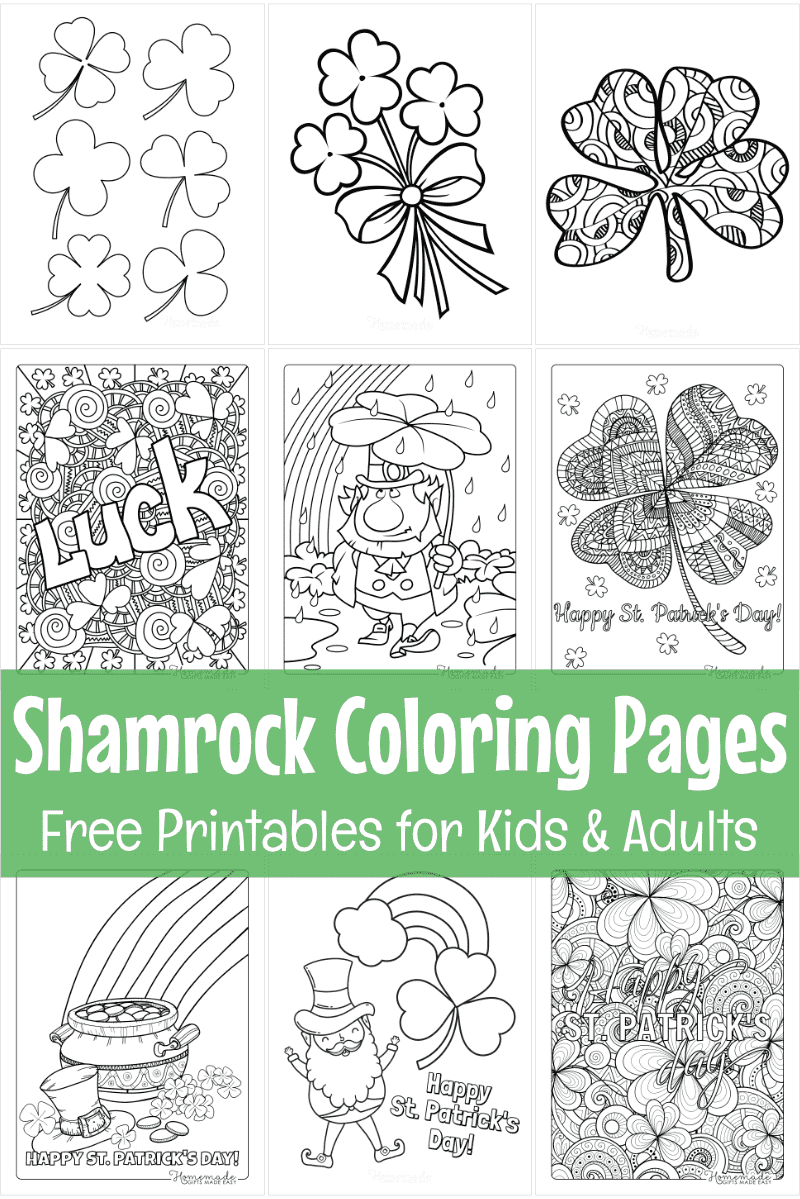 St Patrick's Day Coloring Pages

If your kids loved crafting with our shamrock templates, maybe they'll also love our free printable St Patrick's Day Coloring Pages.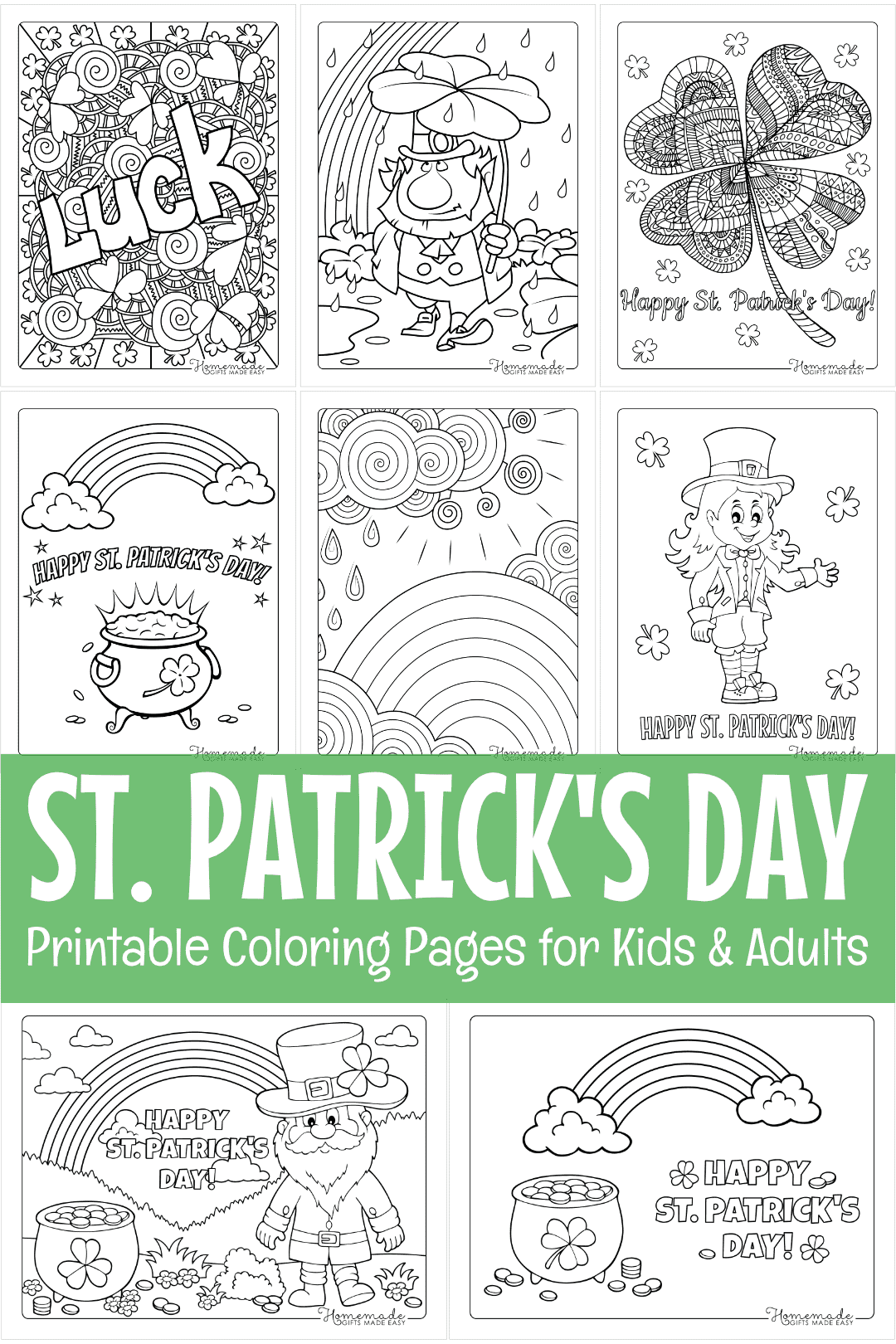 St Patrick's Day Word Searches

Looking for more St Patrick's Day printable activities? Check out our St Patrick's Day Word Searches. With words like "Ireland," "Rainbow," "Leprechaun", "Shamrock" and more, your kids will have fun at the same time as learning about this special day in Irish culture.