Last updated: February 1, 2023

Rainbow coloring pages are fun, cheerful, and the perfect choice for brightening your day. If you or your kids are looking for a rainbow to color you're in the right place! On this page, you'll find a huge range of the very best rainbow coloring sheets and rainbow templates to color and enjoy. There are simpler rainbow coloring sheets suitable for kids, and a few more intricate ones for teens and adults!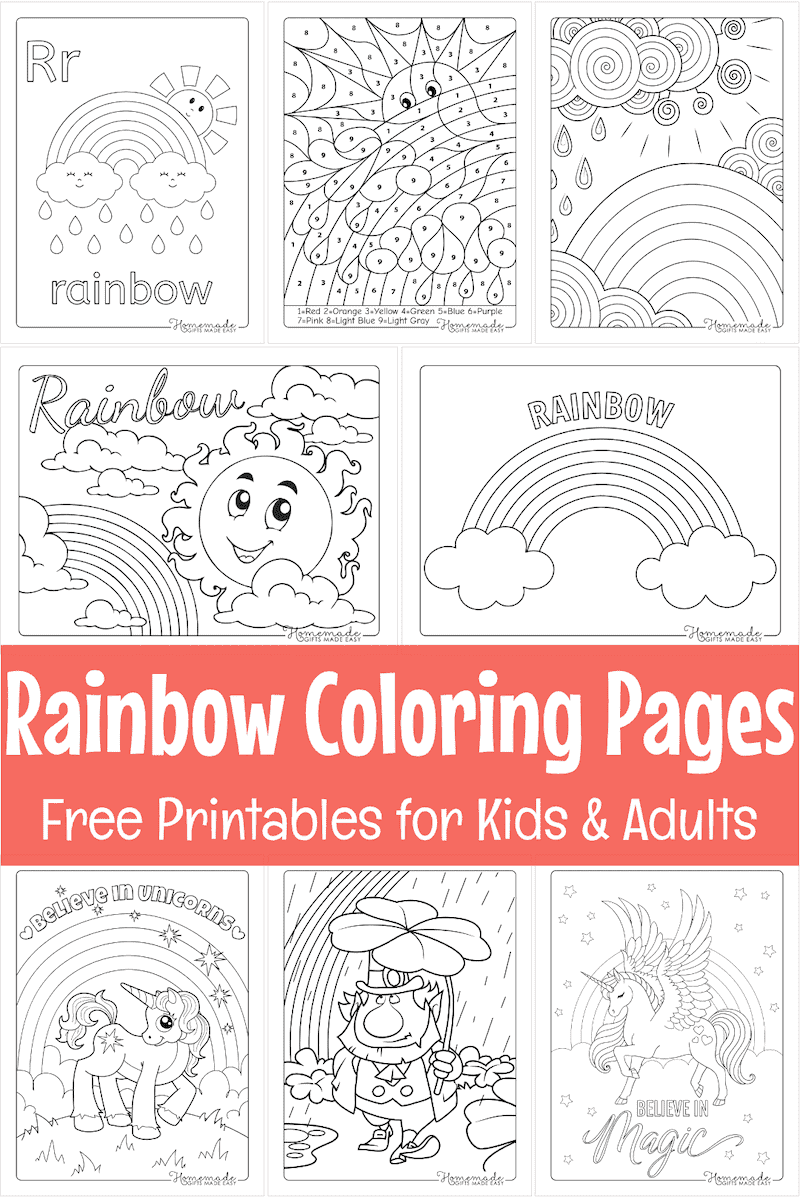 Our rainbow coloring page collection is great when you're looking for a weather-themed activity, or for a rainy day that needs cheering up. Or you might just want to surround yourself with beautiful colors to lift your spirits! Whatever the reason, you'll find the perfect rainbow coloring sheet or rainbow template right here.
Free Printable Rainbow Coloring Pages

Scroll down the page to find the perfect rainbow coloring sheet. You could choose a gorgeous weather-related rainbow coloring page PDF that features clouds, the sun, and rain as well as a rainbow. A cute rainbow coloring page with animals is always a popular choice with children. You might like to choose a mystical unicorn-themed rainbow picture to color that will add a touch of magic to your day. In addition, we have a great selection of St Patrick's rainbow coloring sheets featuring a lucky pot of gold at the end of the rainbow!
Our coloring sheets are high-resolution letter-sized printable PDFs. To download, simply click on the image or text link underneath the image. These printables are for personal, non-commercial use only.
Spring Coloring Pages

Looking for more coloring pages for your kids to enjoy? Check out our Spring coloring pages for kids and adults to color, including beautiful Spring flowers, cute baby animals, rainy day pictures, flower mandalas, and many more! So find your pencils and pens and create a beautiful picture to welcome in this season of new life and new beginnings!
Free Printable Cat Coloring Pages

Looking for some pet coloring pages? These super cute cat coloring pages and cute kitty pictures for kids of all ages to color in are fabulous for a rainy day!
75 Magical Unicorns Coloring Pages

Check out our extensive range of magical unicorn coloring sheets, from cute baby unicorns to majestic winged unicorns, to intricately-patterned drawings for those children (and adults!) looking for a more challenging picture to color.