Last updated: October 25, 2022

With the holidays right around the corner, it's time to think about sending Thanksgiving messages to your team or employees. This season of gratitude is an excellent opportunity to let your coworker, boss, client, or employee know how much you appreciate their efforts.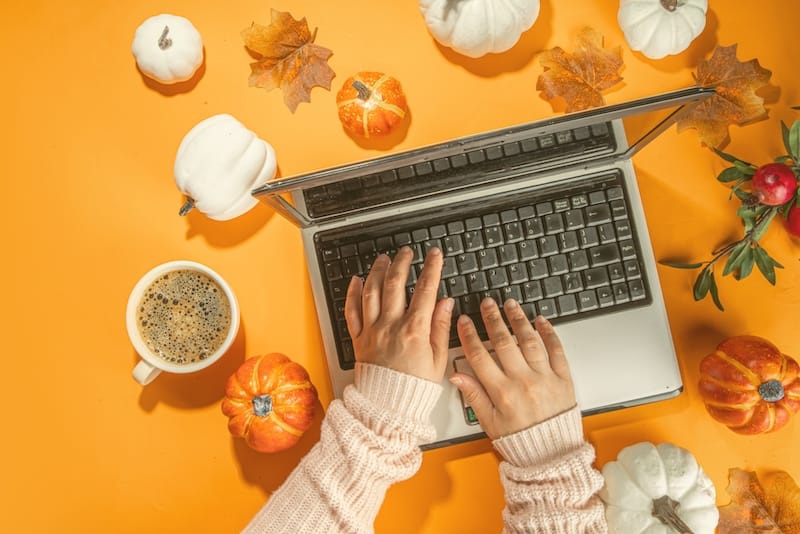 Expressing gratitude for the members of your team can improve mental health throughout your workplace while also increasing long-term productivity. Your Thanksgiving message can express your gratitude for your employees' or coworkers' time and effort while encouraging them to have a wonderful holiday. You might tell them how they make your life easier and praise their endeavors throughout the year.
If you're looking for the best way to thank your team for their time and hard work, these messages are full of thanks and congratulations. Whether you're expressing season's greetings or a general recognition for all the things they've accomplished throughout the year, we hope you'll find the perfect message.
Scroll down the page to see all our Thanksgiving messages for teams, or click on the links below to jump to a particular section.
Teams |
Employees |
Coworkers |
Clients |
Boss
Thanksgiving Messages for Teams

You know best how to communicate with your team. For teams who like to laugh in the workplace, add a joke to your message. Other teams might prefer a more serious tone to highlight their accomplishments. Feel free to edit these messages to include detail about the projects that you've been working on together.
All year long, I've been so proud of this team. Your growth and accomplishment have shown how hard-working you are, while also being capable and generous. I can't thank each of you enough for your dedication. May you have an incredible Thanksgiving holiday!
I'm continually inspired by the hard work and dedication of this team. From supporting sick colleagues to making sure we hit all of our benchmarks, each of you is wonderful to work with. May you enjoy time with your loved ones this Thanksgiving.
On behalf of management, I'd like to say we're so proud of your team and all that you've accomplished this year. Wishing you an amazing Thanksgiving!
Community and relationships are among life's most precious treasures. This Thanksgiving, let's take a moment to appreciate the great interpersonal support and encouragement this team gives each other. May your holiday be full of warmth and happiness.
This team has remained strong and dedicated in the face of a difficult year. I couldn't be more grateful to know and work with each of you. Have a very happy Thanksgiving!
This has been a tough year for all businesses and individuals. This team has faced those difficulties with a positive attitude and mutual support. You have been so strong and resilient, and this Thanksgiving, we want to thank you for all the work and time you've given us. Happy Thanksgiving!
Thanksgiving Messages for Employees

Showing appreciation is valuable for everyone in the workplace. It keeps employees motivated, and helps bosses to build important relationships with the team. Use these messages to praise your employees for their hard work throughout the year.
Hiring you was like striking gold. You've been incredible to work with, and I can't be more grateful for all the effort you've put in this year. We couldn't have achieved so much this year without you. May you have a restful Thanksgiving full of love and joy.
A toast: to the first person who arrives in the morning and the last person who leaves at night. We all admire your dedication and success. We're so glad you're part of this team. Now go take a break! Happy Thanksgiving!
It's been a privilege and a pleasure to get to know you. Ever since you started, you've been constantly improving. We're so thankful for all your hard work. Wishing you a wonderful Thanksgiving, and I can't wait to see what you achieve next.
With Thanksgiving approaching, I'd like to express how grateful I am for your work. Your loyalty and dedication have helped [company name] to thrive, and we're very lucky that you're part of our team. Thank you for contributing to our success this year. Wishing you abundance this Thanksgiving.
Your dedication as you serve our [clients/customers] helps make [company name] such a great place. Your time and commitment mean so much to us, and we're grateful to have someone of your skill and charisma on our team. Enjoy your much-deserved free time, and have a happy Thanksgiving.
As the holiday season approaches, let's congratulate the incredible employees who help us grow and improve every day. Wishing you a festive and bountiful holiday. Happy Thanksgiving!
Your admirable hard work and positivity are invaluable to this company. Furthermore, I appreciate how supportive you are by mentoring new employees. May your home be full of love and joy this Thanksgiving.
Thanksgiving Messages for Colleagues and Coworkers

Everyone could use a note of appreciation, especially during a hectic holiday season. These Thanksgiving wishes are for that colleague or coworker who makes your workday better. You can tailor the message to match your working relationship and fit it easily into a greeting card, text message, or email.
Thanks for all your efforts day after day. You're always so generous with your skills, and we couldn't have done any of this without you! Here's to a wonderful holiday with your friends and family.
Working with you has been one of my favorite parts of this year. Your support is a true gift. Happy Thanksgiving!
I am always so impressed at the competence and confidence with which you embrace every challenge. I feel so lucky to be able to work with you. Have a wonderful Thanksgiving!
This Thanksgiving, I'd like to profess my gratitude for you, the coworker who keeps me from going insane every day. Cheers to my favorite work buddy!
You're always doing the things that make life easier and more enjoyable for the rest of us. You're a wonderful colleague, and I hope you have a restful holiday with your loved ones. Happy Thanksgiving!
I appreciate how you show up with so much positivity, enthusiasm, and absolute genius. Your presence and support banish the blues from every Monday. Thanks for always having my back. I hope you have the best Thanksgiving celebration!
Your brilliance and high standards keep me motivated for the next challenge. As much as I admire your "can-do" spirit and dedication, I hope you have some restful time off this holiday season.
Thanksgiving Messages for Clients

Your client list is a great place to start writing your holiday greetings. These messages express gratitude for clients who support your business. You can edit them to clarify what your business does, who you are, and what your clients have helped you to accomplish this year.
This Thanksgiving, I want to thank you for everything you've done to help us grow and thrive. We're so grateful to have you on our team and are looking forward to more opportunities in the future. Sending wishes for a wonderful Thanksgiving to you and yours.
In this season of gratitude, we're thankful to have you in our community and network. We're glad you've chosen us to provide you with our services. May you have a wonderful Thanksgiving!
We deeply appreciate having you as a part of our work family, and we're grateful to your continued support for and within our community. As always, we value your input in our continued success. Hoping you have a beautiful holiday. Happy Thanksgiving from [company name].
When we count our blessings, you and your patronage stand out. You have been a key to our success, and we couldn't be more thankful. Happy Thanksgiving!
This year has been a trying one for us, our business, the community, and you as well. Though we've faced many challenges, your resilience has been a constant inspiration, and your support has been indispensable for our success. We're sending many blessings for a happy Thanksgiving.
This has been an amazing year for [business name], and we appreciate your business in helping us accomplish this. Wishing you a Happy Thanksgiving and an incredible holiday season!
Thanksgiving Messages for Boss

A good boss can often be a great mentor: someone who is invested in helping you accomplish your work goals while fostering a healthy community within the workplace. They could use a little appreciation too. These Thanksgiving messages are appropriate for congratulating your boss and spreading festive cheer.
No one deserves all that turkey, potatoes, gravy, and pumpkin pie more than you do! Wishing you a satisfying Thanksgiving feast and a memorable day with your friends and family.
This year, I'm grateful for all the work you've put into making this such a great place to work. Have a wonderful Thanksgiving!
Your influence pushes me to succeed in challenges I wouldn't have even dreamed of on my own. I appreciate your encouragement and support. Wishing you a restful holiday and plenty of success through the year's close.
I'm grateful for all the support and guidance you've given me. Thanks for making this workplace a safe and fun place. I hope you enjoy a wonderful holiday with those you love the most.
This Thanksgiving, I'd like to express my appreciation for all the opportunities you've given me to grow and thrive at work. The time you've invested in me has made all the difference in my development, and I'll always treasure your mentorship.
I've learned so much from you this year, and I'm glad to have the opportunity to develop my skills even more throughout the year to come. You've been wonderful, and I hope your Thanksgiving is filled with delicious food and cherished loved ones.
More thanksgiving messages and inspiration
If you're looking for more thanksgiving messages for your team, check out our other Thanksgiving pages:
Happy Thanksgiving Messages
Thanksgiving Jokes
Thankful Quotes
Thanksgiving Prayers
Thanksgiving Bible Verses
Happy Thanksgiving Images
Thanksgiving Coloring Pages